The well-known American multinational corporation, Apple has launched its iTunes U platform in UK, which is already used by Stanford, Yale and the MIT (Massachusetts Institute of Technology) universities in US, aiming to make it easier than ever to extend learning, explore interests and stay connected with an alma mater.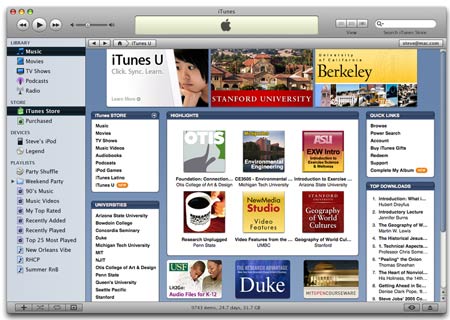 Right now, UK participants inlcuding University College London, Trinity College Dublin and the Open University are putting downloadable lectures onto Apple's iTunes U.
"iTunes U makes it easy for anyone to access amazing educational material from many of the country's most respected colleges and universities," said Eddy Cue, Apple's vice president of iTunes. "Education is a lifelong pursuit and we're pleased to give everyone the ability to download lectures, speeches and other academic content for free."
According to the company, students also can sync iTunes U content with their beloved iPod or iPhone, so they can go right on learning whenever, wherever they want.
"Our students will be able to revisit materials presented to them in lectures, so they can learn anywhere and anytime," said Professor Peter Mobbs at University College London (UCL). "Furthermore, our students are among the world's best and brightest, and I want them to be involved in generating and sharing their own content – discovery, analysis, imaginings – through audio and visual media, in collaboration with staff and other students."
"Making available selected video and audio items from among the university's highly-rated course materials via iTunes U to audiences worldwide offers a new channel for the university," said Prof Denise Kirkpatrick, pro-vice-chancellor (Learning and Teaching) at The Open University. "We can open up free access to educational resources as well as a window for our potential students."