The famous computer company, Apple has official announced the launch of its new Mac Pro, the high-end desktop PC which can provide up to twice the performance of its predecessor, thanks to the two of Intel's new 45 nanometer Quad-Core Xeon processors running up to 3.2GHz.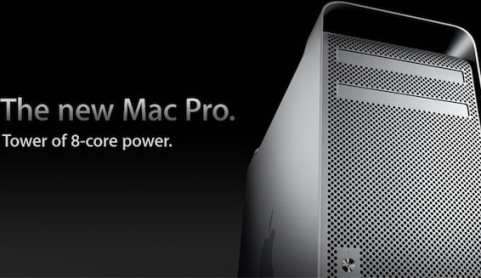 "The new Mac Pro is the fastest Mac we've ever made," said Philip Schiller, Apple's senior vice president of worldwide product marketing. "With 3.2-GHz 8-core Xeon processing, a 1600 MHz front side bus and 800 MHz memory, the new Mac Pro uses the fastest Intel Xeon architecture on the market."
According to the company, "The new Mac Pro comes standard with the ATI Radeon HD 2600 XT graphics card with 256MB of video memory. In addition, this monster machine also includes a new PCI Express 2.0 graphics slot that delivers up to double the bandwidth compared to the previous generation and supports the latest generation of graphics cards from NVIDIA, such as the NVIDIA GeForce 8800 GT with 512MB of video memory, or NVIDIA Quadro FX 5600 with 1.5GB of video memory and a 3-D stereo port for stereo-in-a-window applications. With support for up to four graphics cards, the new Apple Mac Pro can drive up to eight 30-inch displays at once for advanced visualization and large display walls."
The new Mac Pro is now available via Apple's authorized resellers, online and retail stores, starting at $2,799. Check more details of new Mac Pro on Apple's official site.