Apple has officially launched its new Safari 5 for both Mac OS X and Windows, which the company claims as newest version of the world's fastest and most innovative web browser, powered by an enhanced Nitro JavaScript engine, featuring more search options with a new added Bing search in addition to Google and Yahoo! Search. The most notable new feature of Safari 5 is Safari Reader, which allows users to read single and multipage online articles in one continuous, scrollable view, eliminating annoying advertisements or clutters.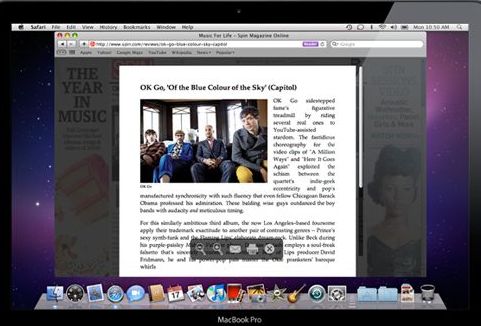 In addition to new Safari Reader, Safari 5 offers an array of new HTML5 features that enable web developers to create dynamic, media-rich web sites, such as full screen playback and closed captions for HTML5 video, supporting more interesting HTML5 features including HTML5 Geolocation, HTML5 sectioning elements, HTML5 draggable attribute, HTML5 forms validation, HTML5 Ruby, HTML5 AJAX History, EventSource and WebSocket.
Safari 5 on the Mac runs JavaScript 30 percent faster than Safari 4, 3 percent faster than Chrome 5.0, and over twice as fast as Firefox 3.6. Safari 5 loads new web pages faster using Domain Name System (DNS) prefetching, and improves the caching of previously viewed pages to return to them more quickly.
Furthermore, web developers can customize and enhance the new Safari 5 browsing experience by creating secure Safari Extensions, thanks to the newly-launched, free Safari Developer Program.
Interested users can now download the new Safari 5 web browser for free on Apple's official web site.