After the successful launch of iPhone by Apple Inc few months ago, now there seems to be a plan to come out with second generation iPhone which will pack more features while still maintain the famous multi touch function. It is unlikely that Apple will remain using Samsung ARM based processor (like first generation iPhone) due to power hungry applications and some believe that it may aim at the world's famous chipmaker, Intel Corporation's Silverthorne processor. Silverthorne processor is the upcoming low power silicon targeted for UMPC (Ultra Mobile PC) and MID (Mobile Internet Device), which will be launched in mid of 2008.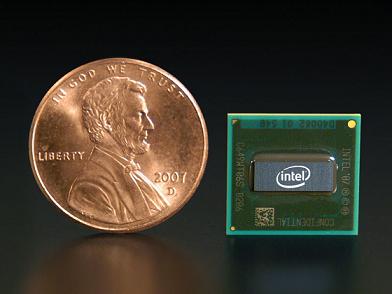 This is not the first time Apple utilized Intel's chip in its product. If you recall, Apple was using Intel Pentium M "Crofton" for its Apple TV but then move to Samsung ARM processor for its iPhone and now may switch back to Intel for its second generation 3G iPhone. Nothing is firm about the new iPhone but it is believed that performance per watt is the highest priority for the selection. Obviously, Silverthorne fits the requirements well with less than 2 watt power envelope and able to have significant performance over its competitors. Who knows, it may equipped with Windows OS which is famous in today MID if the silicon performance allows.
If this is true, Intel can expect higher forecasted volume as what being observed during the first launch of iPhone that brought much benefit to Samsung and even some NAND flash memory vendors.