Apple has released iOS 4.3.2 software update for its various highly-popular mobile devices – iPad, iPad 2, iPhone 3GS, iPhone 4 (GSM), 3rd-generation iPod touch and 4th-gen iPod touch, which the corporation claims to fix issues related to FaceTime calling and iPad 3G connectivity.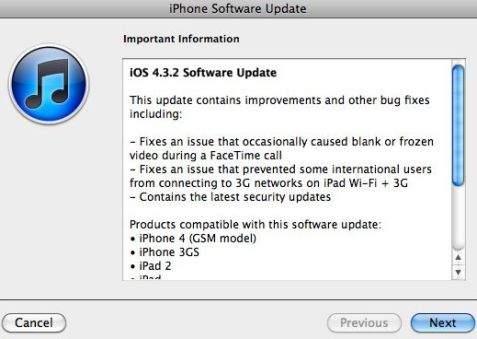 Improvements and other bug fixes of iOS 4.3.2 software update:
Fixes an issue that occasionally caused blank or frozen video during a FaceTime call
Fixes an issue that prevented some International users from connecting to 3G networks on iPad Wi-Fi + 3G
Contains the latest security updates
The newest version of iOS software update (iOS 4.3.2) is now available for download via iTunes.
Direct download links of iOS 4.3.2 update:
Alongside the iOS 4.3.2, Apple also released iOS 4.2.7 software update which includes the incremental update for Verizon's iPhone 4 (CDMA).
Download link of iOS 4.2.7 – Verizon iPhone 4
Update: iOS 4.3.3