Apple Inc's iPhone has received overwhelming responses after the recent launch in consumer market. However, not all of the users are satisfied with its performance and one of the major complaints from users so far is on the poor 3G network reception that often causes internet connectivity and calls drop. There are few potential root causes speculated around ranging from AT&T 3G network instability, software and hardware and even manufacturing defects. But according to Nomura Securities analyst, Richard Windsor, the reception issue could be due to inferior Infineon 3G receiver module embedded in the iPhone itself.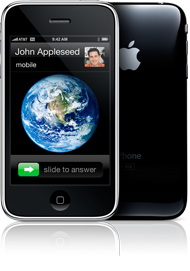 Apple Inc mentioned that there will be a new firmware to be released to rectify the issue. However, we are doubt if this will able to totally resolve the issue if it was due to the hardware module. Also, it is a bit strange that the problem only happened on Apple's iPhone but not other manufacturer's mobile devices, since the receiver module has been implemented on other mobile devices for some times but not seeing any issue.
No word from Apple Inc nor AT&T on this yet and hopefully there will be some firmware updates that are able to fix it without the need to do massive recall or hardware parts replacement that could costs millions of dollars.