Ashampoo Antivirus is comprehensive security software for Windows operating system that provides protection against viruses, worms, and Trojans. The Ashampoo Antivirus comes with simple and intuitive users interface. In addition, the Ashampoo Antivirus also performs checks and protects all the critical system areas of the computer. It is using advanced new algorithms for identifying and blocking unknown threats on the basis of suspicious behavior. The Ashampoo Antivirus also integrates a background scanner module to provide completely new development that places a minimum load on your system resources.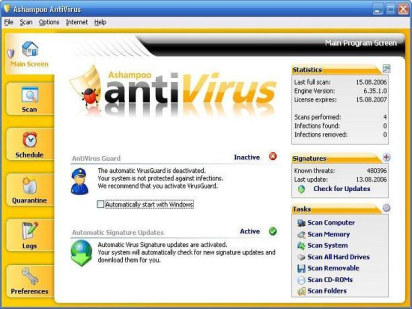 Features of Ashampoo AntiVirus:
Protects against over 470,000 viruses, worms, Trojans and dialers
Checks and protects all the relevant system areas of the computer
Background scanner mode
Automatic daily virus signature updates for maximum protection
Low system load
Daily updates
Multiple scan modes
Integration in system environment for direct access from other programs (Windows Explorer)
Compatible with Windows 2000/XP and Vista
Ashampoo Antivirus normally cost $29.99 for purchase. The Ashampoo Antivirus version 1.61 has improved guard, security center connection, e-mail scanner (Maximum Protection), and increased general performance. Users who might intend to try Ashampoo Antivirus now can get a great opportunity offered by Ashampoo to enjoy a free full version license key. To grab a free Ashampoo Antivirus version 1.61 with genuine and working license key for this security software, users can follow the steps below:
Visit the following URL to register for free Ashampoo Antivirus 1.61:
http://www2.ashampoo.com/webcache/html/1/trial_step_1_4019_2.htm
Fill in the form by enter a valid email address, then click "Send" button to register.
Then email from "Ashampoo" will receive with a conformation link.
Click on the conformation link, then will be automatically directed to a web page where need to fill in the name and other information.Note: If you already registered an account with Ashampoo before, just click on conformation link, then you will be directed to your Personal Ashampoo Account Page or receive email with license key
Once after fill in the form by type first name, last name, zip code, language and country.
Ashampoo will send another email with Ashampoo Antivirus 1.61 full version registration key.
Download and install Ashampoo Antivirus 1.61: Ashampoo_antivirus161_sm.exe
Enter the license key to enjoy the free full app.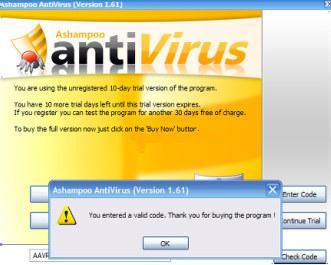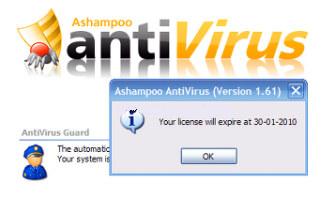 Update:
Ashampoo AntiVirus 2014 Free Full Version Download With License Serial Key