Want to convert your CD or DVD slide shows or movies into a commercial program disc with a graphical menu for users to choose when the disc is inserted? Then Ashampoo MyAutoplay Menu may be an option to you. The Ashampoo MyAutoplay Menu is a Windows application which does the work of creating autoplay discs with a simple point- and-click interface. The program is integrated with CD and DVD burning features for users to create their finished discs without leaving the program. Besides CDs and DVDs, the Ashampoo MyAutoplay Menu can also create USB thumb drives that "autoplay" directly on insertion with interactive multi-page menus.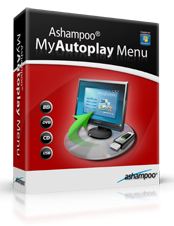 Key features of the Ashampoo MyAutoplay Menu includes:
Create discs with multiple slide shows and movies with a navigation menu.
Create USB thumb drives with a collection of portable applications and a navigation menu for selecting them.
Able to design and display a "splash screen" – a graphical page that displays for a short definable period before the menu appears.
Create multi-page menus with buttons for executing functions and navigating between the menu pages, with animated transitions between the pages.
Button functions include starting programs, opening documents, opening web pages, creating emails and a wide range of options for navigating between your menu screens.
Can add background music or sounds in a wide variety of formats to play once or loop while the menus are displayed.
Ashampoo is now giving away free license key code for Ashampoo MyAutoplay Menu. To grab the free copy of Ashampoo MyAutoplay Menu legally which normally cost $19.99 to purchase, just follow the below steps:
New Ashampoo Users:
Visit Ashampoo MyAutoplay Menu promotion page, then enter the email address and click on "Send" button.

Use the received link to register for free Ashampoo MyAutoplay Menu license code.
Download Ashampoo MyAutoplay Menu: ashampoo_myautoplay_menu_sm.exe
Existing Users:
Visit Ashampoo MyAutoplay Menu promotion page, then enter the email address and click on "Send" button.
Login in to account and click on the "My license keys" tab to get free license key.
Download Ashampoo MyAutoplay Menu: ashampoo_myautoplay_menu_sm.exe