iPhone's touch screen is so sensitive that sometimes you may accidentally press the recent list or contacts to call someone. It could be embarrassing and worst still if you are getting roaming charge for such mistake. If you wanted a second protection other than the password keylock, here is a tiny app from Cydia that you can consider. Named as AskToCall (from Bigboss), it does exactly what it claimed but only workable for jailbroken iPhone.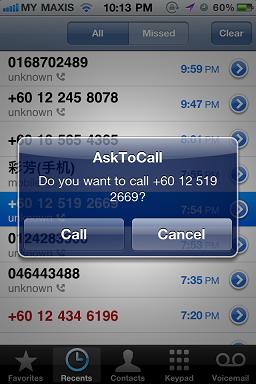 Like usual, just head over to Cydia and under 'Search' tab, type in 'AskToCall' will list down the respective app that you can download. Just download it and without any new icon being installed, restart the Springboard will make it effective. By now, whenever you want to make a call, or accidentally press any Call button, a message of 'Do you want to call?' will appear asking for confirmation. At this time, users can either tap on 'Call' button or cancel the calling action (for accidentally press).
Unfortunately, this doesn't restrict the 'Voicemail' button which can be easily accessed from the bottom right on the main calling menu. Nevertheless, this is still quite a simple but yet useful app that will prevent you from any embarrassing moment and unnecessary call charges. Meanwhile, if you want to get confirmation to prevent unintentional message sending, there is another app called AskToSend (also from Bigboss) that will prompt for confirmation before sending SMS and emails.