Generally users have their own list of favorite websites that they visit almost every day or even several times per day. For instance, they log in to Gmail to check mail as and when they are free, read new posts from Mydigitallife, monitor share prices at the stock market, etc. Users basically will save these so-called highly accessed websites in their favorite list in the IE browser for quick access and convenience. If you think to start your Internet Explorer browser by going to Menu->Favorite to locate the saved favorite website is too tedious and you are looking for a better solution to quickly access these sites, you should try to assign shortcut keys to access your favorite website. Once the keys are set, users just need to press the keys and the particular site will be accessed. For instance, if you have assigned "Ctrl + Shift + M" to open Mydigitallife, you just need to press the said keys to open the Mydigitallife site even though the browser is closed.
To set and assign shortcut keys to open a particular website in your Internet Browser is pretty simple and straightforward. First of all, users must ensure their favorite site is saved in the Favorite List. Once it is saved, users need to go to Favorite at the Menu, right click the website, and choose "Properties".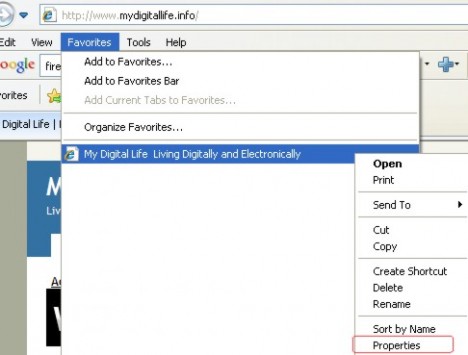 At the properties dialog pop-up, choose "Web Document" Tab. Click on to the "Shortcut Key" field. Users can thence press their preferred keys, for instance in this example "Ctrl + Shift + M" to assign the shortcut keys to open up Mydigitallife when the keys are pressed.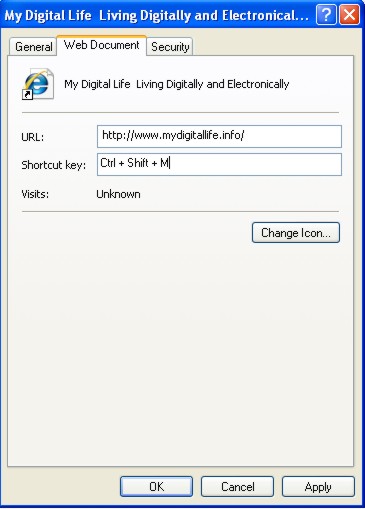 Click "Apply" to continue. This will automatically activate the shortcut keys.