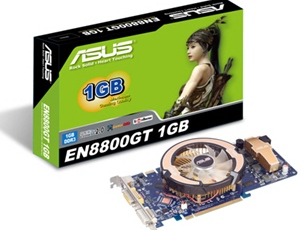 The well-known Taiwanese manufacturer of computer components and accessories, Asus has announced its new EN8800GT, the world's first Nvidia GeForce 8800GT graphics card with 1GB of Qimonda GDDR3 memory, aiming to to provide a feature-rich DirectX 10 gaming and multimedia playback experience at ultra-high resolution and maximum quality setting.

"From what our customers tell us, discerning gamers demand hardware that can truly unleash immersive graphics and unreal gaming performance. Our approach is to combine the most powerful GPU from NVIDIA with 1GB of high speed Qimonda GDDR3 memory," said C.P. Wu, General Manager of ASUS Graphics and Multimedia Business. " We are proud to be the first manufacturer to introduce such revolutionary product."
"We are glad that Qimonda could offer ASUS this ultimate memory solution, which enables us to offer this leading product for the graphic card market", said Robert Feurle, Vice President of Business Unit Graphics at Qimonda.
The new Asus EN8800GT Graphics Card will be available by end of December but no words on its price yet. Check the official site to see more details of EN8800GT.