Asustek is not only famous for its netbook products, but there are also a wide range of accessories products being made available for consumer market. Just recently, the Taiwanese company has just unveiled a new PCI Express based Dual TV card, named as MY Cinema-EHD3-100/NAQ/FM/AV/MCE RC targeted for home users that would like to record and watch TV program simultaneously on PC screen.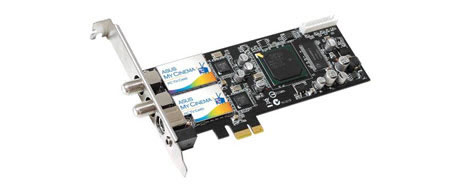 The new Asus Dual TV card combines both digital (ATSC/QAM) and analog (NTSC) TV functionality and users can simply plug it into the PCI Express connector that can be easily found in today's PC platform. It features an on board MPEG2 hardware encoder and utilizes PCI Express X 1 lane interface that able to scale up the data rate up to 500MBps, which is about three times faster than conventional PCI that still stuck at 133MBps maximum. Obviously, this will able to offload the intensive processing power from CPU core, making the media streaming smoother for impressive visual experience. Good thing is, now the new TV card is enhanced with Asus GadgeTV capability that allows users to playback recorded clips and snapshot with special designed sidebar button.
No pricing and availability yet, this is definitely a good solution if you are looking for way to transform your normal PC into a home entertainment center in digital home.