Nowadays mobile phones no longer just receive and answer calls. The latest mobile devices are packed with more and more features and functions. The latest Asus P535 PDA-phone is another typical example of a mobile device that has been enhanced with the latest technology and incorporated with a full fledged GPS (Global Positioning System).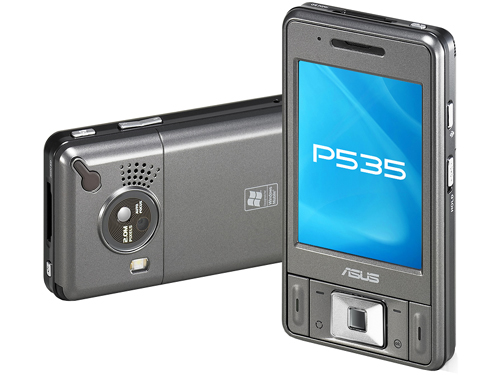 Selling at the retail price of US$755.82, Asus P535 package comes with a charger, a car charger, a stereo handsfree kit, USB cables, a pouch, user manual/CD and a suction cup for setting the P535 up in the car. The exterior of the P535 is quite traditional – it is rectangular in shape and fits well in the hand. It measures 109 x 59 x 19mm and weighs 145g. Asus P535 works entirely on a touch-screen interface and it does not come with any kind of thumb keyboard or alphanumeric keypad. It might pose some difficulty for users who have just upgraded from a normal mobile phone to the Pocket PC phone. New users to Pocket PC might find it difficult to use Block Recognizer or Letter Recognizer or even the tiny little Qwerty software keyboard to enter texts.
Asus P535 is operating under Windows Mobile 5.0 and it has all Microsoft Office applications integrated into the system such as Words, Excel, Internet Explorer and Power Point. Asus P535 is also installed with a few built-in applications such as Windows Media Player, "My Secrets", "WorldCard Mobile" and even "Skype". "My Secrets" is an application for encrypting your personal data while WorldCard Mobile allows you to snap photos of business cards and have them automatically recognized and converted to a contact on the Pocket PC.
Like most of the PDA phones available in the market nowadays, P535 is equipped with a multitude of connectivity options from 802.11b/g wireless LAN and GPRS to Bluetooth 2.0 and USB. Though it lacks infrared and EDGE, what's sorely missed in the P535 is 3G/HSDPA which is increasingly being offered on cellular handhelds these days. This phone also produces excellent and quality images with its 2-megapixel autofocus digital camera.
The unique function of P535 of course is its integrated SiRF Star III single chip GPS receiver, which is one of the most sensitive GPS chipsets available today and should perform like other GPS units with the same chipset. It was tested with the Agis mapping software and it was found to be quite sensitive to use.
Generally Asus P535 is a good phone with its advanced features especially the built-in GPS. Besides that, it is bundled with some good and useful software for users. Having said that, it has no built-in keyboard and it is quite inconvenient for some users.