Asustek is famous for its new netbook and nettop that fits well in terms of pricing and specification requirements in consumer market. While continuously exploring new ultra small form factor notebook, the Taiwanese company is also expanding its new product lines in smart phone market. Just recently, Asustek has unveiled a new high end model named as P835 that being enhanced with larger touch screen display and advanced functionalities.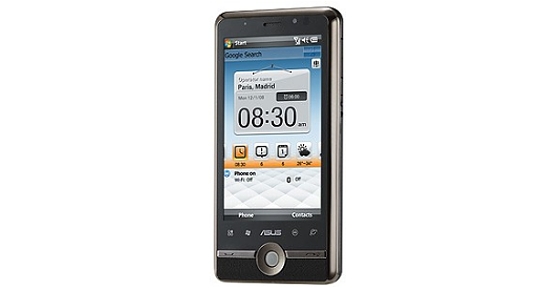 Typically most of the mobile devices are still stuck at 3.2-inch touch screen display with 320 X 240 resolution, the P835 has been equipped with a larger screen size of 3.5-inch WVGA with 800 X 400 resolution, which is about five times more of the viewing pixels possible as compared to most of the smart phones in the market. It is powered by Qualcomm 528MHz processor running with Windows Mobile 6.1 OS and features an extremely fast 7.2Mbps download speed that make it a powerful web browsing mobile device on the move. That is not all, users can treat the powerful smart phone as a Wi-Fi Access point that make the bandwidth shareable to all access clients in LAN (Local Area Network). Some other features include GPS (Global Positioning System), 5 Megapixel Auto Focus camera, 4GB Internal memory storage and many more that are well packed into a stylish 115mm x 59mm x 13.8 mm casing.
No pricing and availability information as of today, but we should expect to see it in commercial market in a couple of months from now.