Asus has just unveiled a new high end platform with integrated 802.11n WiFi access point for PC enthusiasts. Known as P5E3 Deluxe/WiFi-AP@n, the platform combines almost all mainstream components inclusive the world's first EPU (Energy Processing Unit) from Asus, X38 chipset from Intel and newly released DDR3 dual channel memory controller running at 1800 MHz extreme high speed.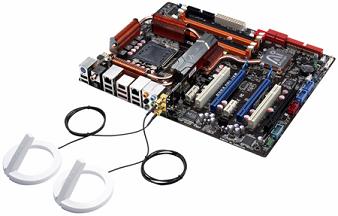 The Asus's EPU is famous for its excellent energy saving scheme that can monitor and automatically tune the core voltage in respond to the CPU utilization. When the EPU cycle is under utilized, the algorithm is intelligent enough to lower down the power supply voltage to make it more energy efficient. And this will be adjusted dynamically depending on the processing tasks. It is said to be able to save up to 58.6 percent of CPU power for light system loading condition.
To make it more attractive, the platform features the 802.11n WiFi support which could scale up the wireless networking throughput to more than six times as compared to conventional 802.11b/g standard. Another key selling feature is the Asus Express Gate which has the fast booting capability that enables the user to boot the whole system using Linux OS within 5 seconds. It also means that the user will no longer need to wait for long time for system boot up before can start surfing net or using the application software.