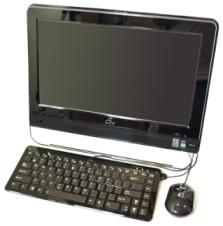 With a name that shouts eccentricity and uniqeness, Asus' Eee top ET1602 is set to tantalize some taste buds and fend off others. It is not the most powerful touchscreen computer in the market nor the fastest. Nevertheless, it has its appeal to people who adore space and like a small light device for easy portability.

The new Eee Top ET1602 is delicate in size because the touchscreen feature enables users to get away with a lightweight keyboard. The computer can stand on a countertop or desk without occupying too much space. For the bargain price of $599, the computer is powered by a 1.6GHz Atom processor and can perform most basic functions including surfing the Net, playing music and chatting. But the speed leaves much to be desired and the computer compares unfavorably with other more sophisticated touchscreen computers in the market such as HP's TouchSmart.
In short, despite its shortcomings, Eee Top offers an alternative for users who are looking for an elegant-looking touchscreen computer at a bargain price for their work or personal use.