AT&T and Samsung have announced the launch of the innovative new Samsung Epix (SGH-i907), the new Windows Mobile 6.1 Professional handset which features both an advanced touch screen and new optical mouse technology, aiming to bring powerful personal computer experience to a sleek, stylish and compact mobile device.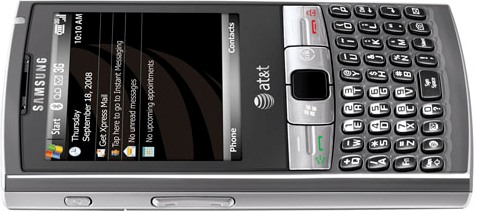 "The Samsung Epix provides AT&T customers with the choice of the cutting-edge capabilities of a touch screen and optical mouse combined with the convenience of a QWERTY keyboard," said Michael Woodward, vice president, Business Mobility Products for AT&T's wireless unit. "AT&T and Samsung have had a very successful history of bringing innovative smartphones, such as BlackJack and BlackJack II, to market and the Epix is no exception. We're sure that the Epix will resonate equally well with AT&T customers."
Impressive Highlights Of Samsung Epix From AT&T:
2 megapixel camera with video-capture capabilities
Wi-Fi (802.11 b/g) to connect with home or campus networks or access more than 17,000 AT&T hot spots nationwide, including at thousands of participating Starbucks locations
Built-in aGPS for use with AT&T Navigator, AT&T Navigator Global Edition and other GPS-based applications for personal and business use.
Stereo Bluetooth technology with stereo headset support
Windows Media Player 10 Mobile and microSD memory card slot (Up to 32GB)
AT&T Video Share – The first-ever service in the U.S. that allows users to share live video over wireless devices while participating in a voice call, so they can share family moments, monitor progress on a job site or review the day's work without having to leave the office.
Global Capabilities – When abroad, AT&T customers can use the Epix to make or receive a phone call in more than 200 countries and check e-mail, browse the Web or perform other data functions in more than 150 countries, including in more than 60 — such as Japan and South Korea — that have deployed 3G networks.
Slim, Light Form Factor – Equipped with full QWERTY keyboard and large 2.5-inch TFT color display (320 x 320 resolution), the Samsung Epix measures 4.6 x 2.4 x 0.5-inches and weighs just 4.4 ounces.
"Samsung developed this phone with the business user in mind," said Bill Ogle, Chief Marketing Officer, Samsung Telecommunications America. "Users want a device that they can take on the road with them. The Epix allows you to never miss a beat at the office, stay in touch with colleagues and family and enjoy entertainment."
In addition, the new Samsung Epix mobile device also supports Microsoft's System Center Mobile Device Manager 2008, the enterprise-grade mobile solution for managing and protecting Windows Mobile 6.1 phones.
"People increasingly need powerful phones to be able to stay in touch with their work and personal lives," said Todd Peters, vice president of marketing, Mobile Communications Business, Microsoft. "The Epix continues Samsung's tradition of sleek, versatile devices that appeal to our shared customer and adds to the already expansive portfolio of Windows Mobile phones on AT&T."
The new Samsung Epix smartphone which has a cool silver finish is available exclusively through AT&T retail stores or its official site for $199.99 with a new two-year contract, after a mail-in rebate.