AT&T has announced a new service that allows users to see the location of family members on a map from a PC or AT&T wireless phone, named as FamilyMap. Beside the location, the users also can see the surrounding landmarks such as schools, parks and etc. It also allows users to switch between satellite and interactive street maps. Families can customize their mapping experience by assigning a name and photo to each device within their account, and also can label places they visit frequently, like "Home" or "Soccer Field."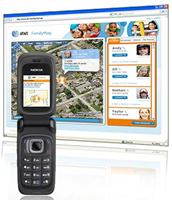 "AT&T FamilyMap is a terrific tool to help busy families keep track of each other, as well as a great way to check up on loved ones for any reason, such as to touch base with elderly family members.
More than 60 percent of AT&T wireless customers are part of a family plan or multiple line account, so there's a considerable number of our subscribers whom we believe will find this service beneficial", according to Mark Collins, vice president of Voice and Data Products for AT&T Mobility and Consumer Markets.
Additionally, the service provides alerts at specified time via a text message. Users can also locate stolen phone with the FamilyMap service. The location information is returned with the highest precision when A-GPS (assisted-GPS) technology is available. Alternative location-finding technologies will be utilized to locate users when A-GPS in unavailable.
The users who sign up for the service will enjoy the first 30 days free. Users can locate up to two phones on an account for a monthly subscription of $9.99 or up to five phones for $14.99 per month. The service is compatible with all AT&T postpaid mobile phones.