AT&T has announced the launch of the HTC Tilt 2 (left) and HTC PURE (right) Windows Mobile 6.5 phones, which feature large vibrant WVGA touch screen, and HTC's TouchFLO 3D interface to provide users an advanced touch experience that optimized for one-hand use.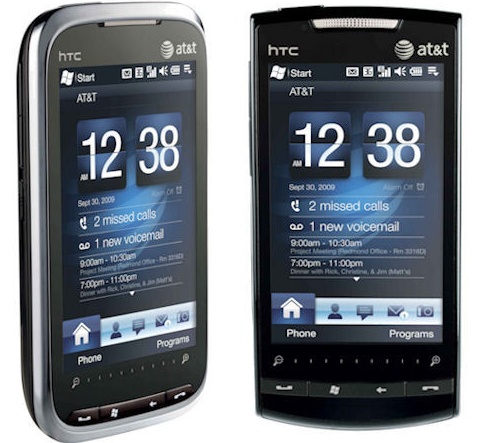 "AT&T and HTC have a long history of innovation with Windows phones," said Andy Lees, senior vice president for Microsoft's Mobile Communications Business. "AT&T, by bringing out the both the HTC Pure with its touch slate, and the HTC Tilt 2 with its keyboard, gives people the ability to choose a Windows phone that matches their preference."
Highlights Of HTC Tilt 2:
Large, high-resolution 3.6-inch widescreen WVGA display that can be easily tilted for expanded viewing area
3.2 megapixel camera
Slide out full QWERTY keyboard optimized for heavy email use
Built-in dual speakers and dual microphones with advanced noise cancellation
HTC's Straight Talk allows for simplified conference calling and activation of the speakerphone by just turning over the handset
"The HTC Tilt 2 and HTC PURE are not only powerhouse devices, they also provide a natural simplicity in the way we communicate with the people in our lives whether through voice, text or email," said Jason Mackenzie, vice president for HTC America. "Our desire is to put people at the center of every mobile experience, and we are pleased to work with AT&T, who shares this common vision."
Highlights Of HTC PURE:
Large, brilliant 3.2-inch WVGA touchscreen display
5 megapixel camera with auto focus and video capture
Built-in gravity sensor and ambient light sensor
HTC PURE is available at AT&T stores nationwide for around $150, while the HTC Tilt 2 will be available in the following weeks for about $300. Both of them receive a $50 mail-in-rebate, based on 2-year service contract (minimum $69.99).