As video calling service has been already available and get popular for some time with the high-speed 3G network, AT&T Inc has recently announced the launch of new video-sharing service that allows consumers to share the live, full-motion video over their mobile phones at the push of a button. However, the video stream only go one-way during live streaming video feeds while callers participating in a two-way voice conversation. With AT&T's Video Share, either side of users can be the one generating the video stream for the other to see when the Video Share call is activated.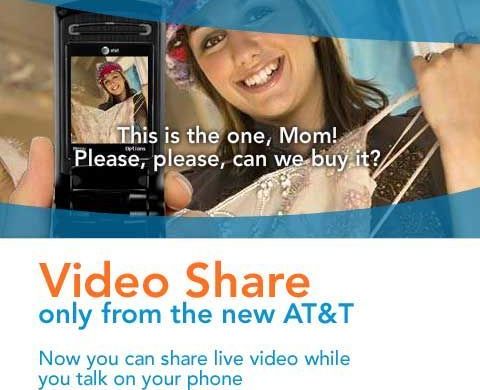 "Even in today's fast-changing environment, it's rare to see a new service that truly redefines the possibilities of communication," says CEO of AT&T, Randall Stephenson. "AT&T Video Share is just that sort of service. Users now have the ability to show others exactly what they see, when they're seeing it, and to share that experience across town or across the country."
AT&T has offered some service packages for Video Share including $4.99 a month for 25 minutes of usage, $9.99 for 60 minutes, or a pay-as-you-go option which charge 35 cents per minute. In addition, the new service is now only available in three markets: San Antonio, Dallas and Atlanta.
AT&T is planning to expand and spread its fantastic Video Share service to most markets that covered by AT&T's 3G network in coming late July.