Sometimes we may come to the situation that we need to revert back the document to the previous version, but without a tool or version control system to save and keep track all versions that we have saved, there is no way for you to restore the document to previous version. Now there is a tool, named as AutoHistory that is built to work as add-ons for Word 2007 to backup every version you have saved in Word 2007.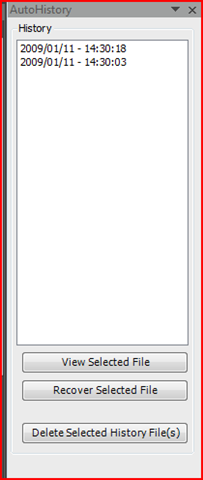 AutoHistory is fully integrated in Word 2007. Once you have installed this tool, you will notice an additional tab called Auto History appeared under View menu. It will create backups on every save you have made in Word 2007. To review history of every backup, just go to Auto History tab, then tick on Show/Hide History checkbox, the history of every revision will be shown at the task pane on the right. There are few options and you can choose either one of them such as to view selected file, recover selected file, compare the document with the backup copy or delete the selected history file.

AutoHistory is absolutely free for download. Hopefully by having this tool installed, you will never lose any important information for every version which you have saved.