Automatic Photo Sorter (APS) is not just a photos sorter. It's a photo management utility that able to automatically copy sort photos, images, pictures and graphics according to the date and time picture is taken as recorded in EXIT data, into set of folders sorted chronologically. Each folder is named according YYYY-MM-DD, and will contain photos made during the day.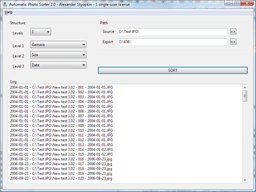 Automatic Photo Sorter is useful for people who tons of photos that dump into a single folder, or unsorted across multiple directories, especially messy photos arrangement when different programs are used to import and upload new photos from digital camera to computer. Best of all, with APS, original photos are left intact unchanged, as the sorting process will copy the photos into new folder.
Giveawayoftheday had given away the free license with valid registration key for Automatic Photo Sorter 2.0 on July 23rd 2008. The offer has expired, but for user who miss out the deal but want to use the software legally, or for user who needs to reinstall Automatic Photo Sorter after reformatting Windows, just download the Automatic Photo Sorter setup install from styopkin.com and use the following registration key to register and convert the installed copy to full version product.
0YlimTljhlXZ2EPTFPOXvKBQ/LAkCZ
R8MQxvFdbZ6gQCmRSmZNH+tLNP/H0v
2jv6bFnUu9VhLIn1oxxLXExFixw7fp
3x3ypA5+sW1Hr//kWmsM5yN2BfNG1g
SbdWgr8hCQmbXFmL3/bt3H8ufl6qo9
wfHYMgNoBP7etpLSbiCKpI=