AutoSave Essentials is an easy to use backup software from Avanquest that is designed to automatically save and backup data. With AutoSave Essentials, users can easily back up any type of file such as photos, music, emails, videos, documents, and etc. In addition, AutoSave Essentials will run continuously in the background to automatically protect files and saves them to the specified location. Besides that, it also feature SmartBackup Tracking Mode that can automatically detects suitable backup destination and save backup until reconnected.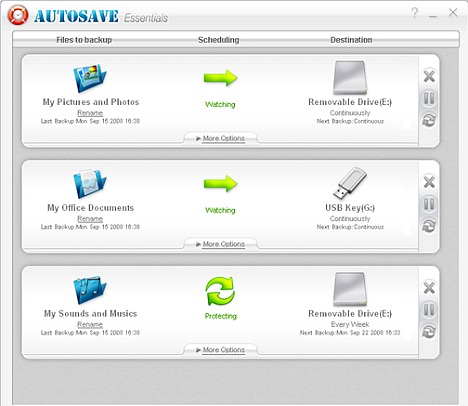 Features of AutoSave Essentials:
Automatically saves any types of documents – Photos, Emails, Videos, Documents and more.
Runs continuously in the background to automatically protect your files.
If disaster does strike, easily restore your data in one click.
Easy to use interface, just follow it and select what you want to save and where you want your back up
No technical knowledge is needed
Backup to an external hard drive, USB pen, network drive, FTP or your local hard drive
Easy Installation – choose a ready-made backup plan or create your own
Helps protect against hard drive failure, computer crashes and accidental overwriting/deleting of files
AutoSave Essentials normally cost $39.95 for purchase. As part of promotional offer, Avanquest Software is giving away full version license of AutoSave Essentials 3.5 for free. To grab free full version of AutoSave Essentials v3.5 legally, just follow the below steps:
Visit the promotional page: 

http://register.avanquest.com/ABSOFT/produits/Promotion/enregistrement_presse/register_cov_gd.cfm?idcgd=525

Enter your email address, name, and other information, and then click "Here you will get your serial number" button as shown in below image.

An email from "Avanquest Software" will be sent to registered email containing the confirm link. Click the link to receive registration key for AutoSave Essentials.
Download AutoSave Essentials v3.5 setup installer: AutoSaveEssentials_trial.exe
Install AutoSave Essentials v3.5, and enter the registration key to unlock the program.
AutoSave Essentials supports Windows XP, Windows Vista, and Windows 7.