Avanquest WebEasy Professional is an easy to use web editor software that comes with a huge number of templates and e-commerce tools for creating website and publishing onto the web without the need of any programming or HTML knowledge. With WebEasy Professional, users can easily drag and drop to customize page layout, adding images, videos, music, text, RSS feeds, and change backgrounds. Besides that, WebEasy Professional also combines impressive features such as WebWidgets, photo albums, iPhone detection and redirection, shopping carts, Search Engine Optimization tools, and etc.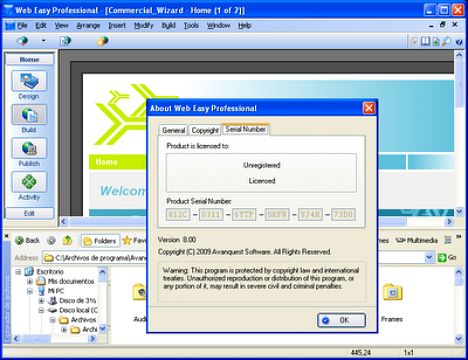 Features of Avanquest WebEasy 8 Professional:
automatically generates HTML code that works with all popular browsers
Search Engine Optimization
One-Click Website Hosting
Web Page Style Designer
Customize elements such as title, navigation menu, header, footer, content and more for a consistent theme
over 500+ professionally designed website templates
Add a PayPal shopping cart to website
Generate Web Page Photo Albums
Blog web page wizard
Over 85,000+ web ready graphics
Intuitive Drag-and-Drop Simplicity
Integrate Favorite Websites & Services
Track and collect visitor information
Get personalized email addresses
One-Click Free Web Site Hosting
Optimize Your Website To Rank High in Search Engines
Promote products on eBay
Powerful E-Commerce Tools
Secure credit card processing
Free 3 Months of hosting included
Free $50 Google AdWords credit for new accounts
Avanquest is now giving away its WebEasy 8 Professional for free with a genuine license key code which normally costs $49.95 for purchase. To grab the free copy of Avanquest WebEasy 8 Professional legally, just follow the below steps:
Visit this promotional page(german): http://register.avanquest.com/ABSOFT/produits/Promotion/enregistrement_presse/register_cov_gd.cfm?idcgd=519.
Fill out the registration form by entering email address (make sure the email address is valid), name, and other information, and then click 'Hier erhalten Sie Ihre Seriennummer' button as shown in below image.

An email from "kontakt@avanquest.de" will be sent to registered email containing the conformation link, and click on "klicken Sie bitte hier" to receive license key for Avanquest WebEasy 8 Professional.
Download WebEasy 8 Professional through Avanquest official page: http://www.avanquest.com/USA/trialDownload.html?pid=tcm:8-133143-64
Copy the Web Easy Professional 8 folder in "C:\Program Files\Avanquest" to another location.
Uninstall the English version.
Download WebEasy 8 Professionanl German version from Avanquest German.
Install the German version as paid version and enter the registration key to unlock the program.
Copy the backup "Web Easy Professional 8" folder from the English version to "C:\Program Files\Avanquest" and rename first the German folder.
Thanks to John for the tip. Avanquest WebEasy 8 Professional supports Windows XP, Vista, and Windows 7 (32- and 64-bit).