avast! Free Antivirus is one of the most popular non-commercial antivirus program from AVAST software. As part of commitment to improve it, the company has upgraded its free edition of avast! Antivirus to version 6.0. Similar to , the latest version of avast! 6.0 Free Antivirus has been added several advanced features and improvements.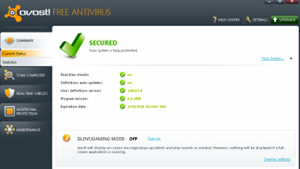 "With our new avast! 6.0 Free Antivirus, we've added advanced capabilities that aren't in any mainstream AV product. Once again, we are providing a free antivirus that often exceeds the protection offered by other paid-for products," said Vince Steckler, CEO of AVAST Software. "In these tight economic times, there is no reason for people to keep paying for the overpriced AV that they have on their computers."
Key features of the avast! 6.0 Free Antivirus includes:
AutoSandbox – identifies suspicious applications and automatically prompts users to run them in a safe virtual environment.
WebRep – first reputation guide for malware and website content incorporated into a free antivirus application.
More internet protection – additional internet security options have been added to the new avast! 6.0 Free Antivirus.
Knows what's bad – able to recognizes and stops malware attacks in the billions.
Great ratings – regular top performer, placing at or near the top for its malware detection, fast scanning speed, and its performance – even when competing against the leading paid-for products.
It's free – Light on computers, even lighter on the wallet.
The avast! 6.0 Free Antivirus works well in Windows platform such as Windows XP, Windows Vista and Windows 7. The avast! 6.0 Free Antivirus is available at the official , or user can use the following direct download links to grab the setup installer immediately.
Download avast! 6.0 Free Antivirus :