AVG Anti-Virus 9 is the latest version of powerful antivirus application from AVG Technologies, which is designed for protection against most sophisticated online or offline threats. AVG Anti-Virus 9 combines Anti-Virus, Anti-Spyware, LinkScanner, E-mail Scanner, Phishing Protection and Online Shield into a single software, aiming for an enhanced real-time Internet protection.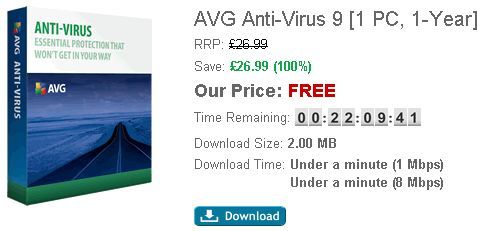 Key features of AVG Anti-Virus 9 includes:
Utilize Anti-Virus and Anti-Spyware technologies aimed for ultimate Internet protection
LinkScanner ensures safe surfing experience by preventing users from visiting websites that created to install malware into their computer via the web browser or its plugins
E-mail Scanner delivers safe e-mailing experience, avoiding harmful attachments and links in your e-mail
Online Shield provides safe downloading and exchanging files experience with no risks of virus infection
Superior Phishing Protection to keep your private and confidential information safe
AVG Anti-Virus 9.0 normally priced at $34.99 per single license (1 PC, 1-year). As part of V3 Software promotion, interested users are now entitled to download the full version of AVG Anti-Virus 9 for free. The promotion is for 24 hours only, and will be expired on mid-day (CET) 1 September 2010. So, hurry up!
To grab a free copy of AVG Anti-Virus 9.0, visit V3 Software Store's promotion page, and click the Download button (you must be a member of V3 Software Store). Then visit http://avgpromo.v3.co.uk to register for obtaining a 1-year free license serial of AVG Anti-Virus 9.
AVG Anti-Virus 9 is compatible with Microsoft Windows XP, 2000, Vista and Windows 7 platform. Check out other free anti-virus and Internet security offers.