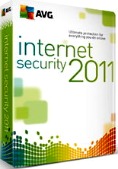 AVG Internet Security 2011 is a comprehensive security suite that provides protection against latest online and offline threats, viruses, worms, Trojans, rootkits, and spyware. The new AVG Internet Security 2011 comes with user friendly interface. AVG Internet Security 2011 combines all the necessary safety features such as AVG Firewall, AVG Anti-Spam and AVG Identity Protection for superior web protection without the fear of identity theft. In addition, AVG Internet Security 2011 has added new features of AVG Social Networking Security and AVG Link Scanner to prevent malware spreading through search engines, email and social websites.

Features of AVG Internet Security 2011:
Provides additional layers of security, keeping the private information safe at all times.
Block spammers and scammers.
Marks all unwanted emails as spam, protecting from online scams and keeping inbox clutter free.
Real-time protection when surfing, shopping, banking and social networking.
Stay safe on social networks with AVG Social Networking Protection.
Surf and search with confidence.
Download and share files without risk of infection. Also protected when exchange files through online chat.
Automatically checks links exchanged on Facebook and MySpace in real time so that you and your friends stay safe.
Support and assistance.
Scan smarter and faster.
AVGs core layers of protection make sure you cant receive or unintentionally spread even the toughest threats.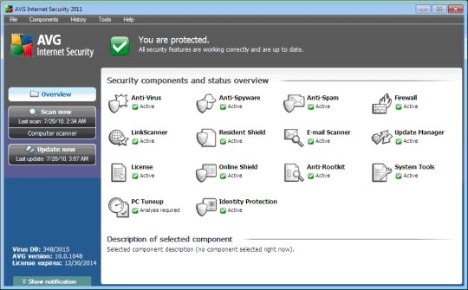 AVG Internet Security 2011 normally cost $54.99 per single license. As part of the limited-time promotional offer from AVG Technologies, users now can grab the AVG Internet Security 2011 with free three months license registration serial key for activation.
To get the free copy of AVG Internet Security 2011, just follow these steps:
Visit the promotional page at the following URL to register: http://www.avg.pl/ZimaZAVG
Fill in the form by enter the password from the magazine as "ZimaZAVG", name, email address, and then tick the check box and click "Wyslij dane" button.The name of the fields are translated as below:

Hasło z czasopisma: Password from the magazine (ZimaZAVG)
Imię: First Name
Nazwisko: Last Name
Email: Email Address

A confirmation email from "AVG Technologies" will be sent to registered email. Confirm it and a new mail will be sent to registered email containing the link to download the setup installer and a registration code to activate the free 3 months subscription.
Download the AVG Internet Security 2011 setup installer: avg_isct_stb_all.exe
Then install it and enter registration code to enjoy the fully licensed AVG Internet Security 2011.
AVG Internet Security 2011 is compatible with Windows XP, Vista and Windows 7 operating system.
Updated: AVG Internet Security 2015 Free Download With 1 Year Genuine License Serial Key