Avira Premium Security Suite is a powerful security suite for home users that provides protection against viruses, hackers, online fraud, spam, phishing schemes, spyware, identity theft and all other known and unknown threats. Avira Premium Security Suite is equipped with generic repair technology that provides smart and fast repair for detected malware.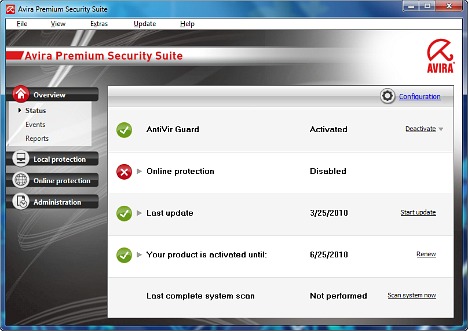 Features of Avira Premium Security Suite:
AntiVir stops all types of viruses
AntiAd/Spyware eliminates ad/spyware
AntiPhishing proactive protection against phising
AntiRootkit against hidden rootkit threats
AntiDrive-by prevents against downloading viruses when surfing
AntiBot prevents dangerous bot networks
An enhanced interface graphical interface
EmailScannerEnhanced email protection
WebGuard for monitoring data and files transferred from the Internet using the HTTP protocol
RescueSystem create a bootable rescue CD
BackupSystem configurable data backup solution
A modularized AV-search engine for improved scan performance
An integrated failsafe security system, and SMTP support for AntiVir MailGuard
AntiSpam filters out unwanted emails
FireWall protection against hackers
GameMode uninterrupted game play
QuickRemoval eliminate viruses at the push of a button
NetbookSupport for laptops with low resolution
ParentalControl block websites unsuitable for children
Avira Premium Security Suite normally cost $34.00 for purchase. As part of promotional offer, Avira Security is giving away six months license of Avira Premium Security Suite 10 for free. To grab free six months of Avira Premium Security Suite 10 legally, just follow the below steps:
Visit this promotional page (in German):
Click "Produktschlussel anfordern" button as shown in below image to download German version setup installer.

Install and select "Produkt testen", and then click Next.

Now enter name, email address, country, and other information, and click Next.
In the new page, the license details will be shown and click "Cancel"
An email from "Avira" will be sent to registered email containing the six months license key link.
Click on the link and enter the orange button to receive license key for Avira Premium Security Suite. Save the license key in your computer.
Download Avira Premium Security Suite setup installer (English version): avira_premium_security_suite_en.zip
Install and click "hbedv.key" and browse to location where license key saved to active the Avira Premium Security Suite 10.