Avira has recently released the latest version of Avira Antivirus 10. The latest Avira Antivirus 10 has been included several new features and enhancement such as manageability options, new security features, malware-protection and redesigned graphical user interface. The latest release of Avira Antivirus 10 includes Avira AntiVir Personal, Avira AntiVir Professional and Avira Premium Security Suite. The Avira Premuim Security Suite is a comprehensive and complete security package which has been included anti-virus scanner, anti-spyware, anti-adware, anti-spam and proactive anti-phishing protection and etc.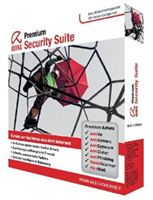 Key features of Avira Premuim Security Suite includes:
AntiVir – stops all types of viruses.
AntiAd/Spyware – eliminates ad/spyware.
AntiPhishing – proactive protection against phising.
AntiRootkit – against hidden rootkit threats.
AntiDrive-by – prevents against downloading viruses when surfing.
EmailScannerEnhanced – email protection.
WebGuard – protection against malicious websites.
RescueSystem – create a bootable rescue CD.
QuickRemoval – eliminate viruses at the push of a button.
NetbookSupport – for laptops with low resolution.
AHeADTechnology – detects even unknown viruses by their profiles.
AntiVirProActiv – detects unknown viruses by their behavior patterns.
GenericRepair – automatic repair of your PC.
ExpressInstallation – install Avira in just 5 clicks.
AviraSupport – there for you in person when questions arise.
AntiBot – prevents dangerous bot networks.
BackupSystem – configurable data backup solution.
AntiSpam – filters out unwanted emails.
FireWall – protection against hackers.
GameMode – uninterrupted game play.
ParentalControl – block websites unsuitable for children.
To grab a copy of Avira Premuim Security Suite version 10.0.0.536 with 90 days free trial license, visit the following web page to register, or any of the :
, and click on "Request license now". Then, click on "License Overview" to download the hbedv.key license kefile.
Download the setup installer: . During installation at license wizard, click 'I already have hbedv.key License file', and locate the downloaded hbedv.key product key file to use the Avira Premium Security Suite v10 free for 90 days.
Check out more available.
Update: