AvMap has just unveiled the new PND (Personal Navigation Device) with live digital TV streaming capability. Known as Geosat 6 TV, it is claimed to be the first one that has integrated the digital TV receiver module on top of supporting all the basic multimedia functions such as media player, PDA phone as well as GPS (Global Positioning System) technology into the single device.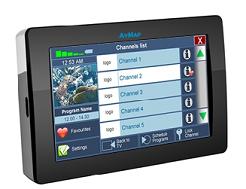 The PND is powered by 520 MHz processor that further supported by Sirf Star III GPS module. It has built in tri-band GSM cellular network capability that allows users to make/receive call and also do web browsing through mobile data service connetion. To make it more powerful as compared to other competitors' products, it is further enhanced with additional DVB-H (Digital Video Broadcasting- Handheld) and DVB-T (Digital Video Broadcasting- Terrestrial) receiver that able to receive digital TV signals on the air. With all these on hand, consumers will be able to enjoy live multimedia streaming with navigation capability while on the move. All these dynamic information will be displayed on its 4.8-inch touch screen LCD panel.
The PND has been showcased during the recent 3GSM World Congress event held in Barcelona last week. No pricing availability yet, but it will be commercialized in Q2 2008.