If you are owning a jailbroken iPhone and is looking for ways to backup and apply different themes on its springboard, then you must have this app in place. Named as BackBoard, it is a free app that you can obtain from Cydia that will simplify the theme backup and swapping process suitable for newbies.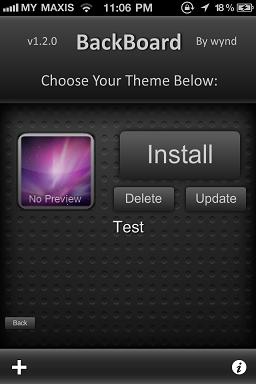 Once installed and restarting your device, you will notice a new icon (with the name of BackBoard) appeared on Springboard. Tapping on it will bring you to its main page. The operation is pretty simple – users can create multiple theme with different setup and those themes can be easily swapped at any time depending on own preference. After you have chosen the specific themes and respring, a new theme with new settings will take over instantly without the need of spending much effort to create it manually that could be time consuming. That is not all, it also maintains different user settings, Mobilesubstrate configuration, Webclips, Home screen wall paper and layout, folders and etc that would definitely able to reduce the complexity of maintaining and switching among different Springboard backups at any time.
However, Backboard doesn't come with any actual themes and users will need to install or purchase them separately. But BackBoard is free for download from Cydia under ModMyi Repository so do grab one to personalize your iPhone or iPod with customized themes.