If you have habits of blog reading or web surfing offline while on the train or plane where broadband access is still very limited, here is a very useful software utility that can help in such situation. Name as BackStreet, it enables users to download and store all websites in local drive, allowing them to view contents at own pace without the need to have network connectivity.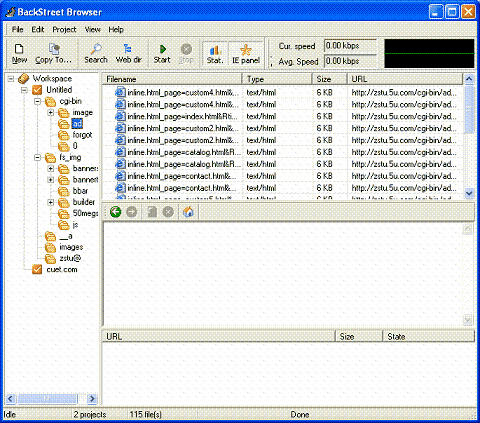 BackStreet Browser is a free and powerful offline browser. It can download the entire website contents up to the maximum link depth that you have defined. The downloaded website contents include HTML, graphics, Java Applets, sound and other user-definable files. Once the website contents are downloaded, surprisingly it will construct all the original links appear in the website even in offline mode. On top of this, BackStreet Browser also allows you to duplicate the website directory structure to ease for migrating the website to another server. If you lose internet connection while downloading a website, BackStreet Browser is enhanced with Resume Session capability that is able to continue from where it stops after internet connection is re-established. To have an update on the website contents that have downloaded earlier, you can use Update Session feature to revisit the website and it will ensure you have kept the most recent files. All downloaded files can be viewed offline by using quick-view browser windows provided in BackStreet Browser's main screen. However, it doesn't mean that all offline files must be viewed with quick-view browser windows. Alternatively, you can view it with your default browser. The quick-view browser window also supports browsing zipped website so that zip files can be viewed without the need to unzip them.
BlackStreet Browser 3.1 is compatible to run on Windows 95/98/2000/NT/ME/XP. The only minimum hardware requirements is you must have at least 64 MB RAM and 2 MB hard disk space for it to work well.