Gaming can be essential part of life for avid gamers, and with games that lasts players hundreds of levels to progress, large piece of territory to conquer, plenty of villains to eliminate, and multiple days to complete, ability to save a game playing progress has been important to ensure that player can continue the game after a pause, sleep or rest.

While some online multi-player games may save and store the game progress in the centralized servers or cloud locations, most games do however save and store the saved game progress files on local computer, typically in My Documents or My Games folder, or inside the game's install directory.
Locally saved games are prone to risk of accidental lost or deletion, file corruption, file wiping due to virus infection, hard disk failure, reformat PC, reinstalling Windows, or even accidental overwritten and replacement by another save by the game. In addition, the saved games will also indirectly lost or left out when users move to a new gaming computer, or player may want to share the saved games with others.
While the saved game files can be manually copied, the process may be tedious, cumbersome and may not be complete as there may be many locations which files can be saved. GameSave Manager is a software application that can help gamers to automatically save the saved game files. With GameSave Manager, users can easily backup, restore and transfer any gamesave(s), removing the need to manually navigate and track through all of the different directories to locate the gamesaves.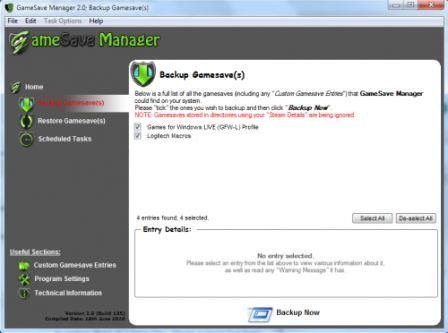 Game Save Manager has built-in native support for around 500 games, which allows users to use GameSave Manager to identify and backup the files saved by the supported games immediately without additional configuration from within "Backup Gamesave(s)" command. Even if the game isn't supported by default, user can use the "Custom GameSave Entries" option to add the support manually, by specifying the path to the locations where the saved games are located.
GameSave Manager is now into version 2, which supports saving to DropBox (aff), allowing all the saved games to be duplicated and transferred to remote cloud location, in addition to continue support to backup locally, especially removable drives. The backup saved games can then be restored when there is need, including moving and restore at another computer.
The stable releases of GameSave Manager is available for free download at gsm.duncsweb.com, and the program supports 32-bit and 64-bit Windows. Supported games in GameSave Manager is added via database update regularly.
The full list of all the officially supported games included in the GSM v2.0 (Build 214) includes:
Official GameSave Entries
AI War: Fleet Command
AREA 51
AaaaaAAaaaAAAaaAAAAaAAAAA!!! – A Reckless Disregard for Gravity
Advent Rising (STEAM Edition)
Advent Rising
Age of Conan
Age of Empires 3
Age of Mythology: The Titans Expansion
Age of Mythology
Age of Pirates 2: City of Abandoned Ships
Age of Wonders
Alien Breed: Impact
Alien Shooter: Vengeance
American McGee's Alice
Anachronox
Anno 1404
Aquaria (STEAM Edition)
ArmA II: Armed Assault 2
ArmA: Armed Assault
Assassin's Creed
Batman: Arkham Asylum
Battle for Wesnoth
BattleForge
Battlefield 2142
Battlefield 2
Battlefield Heroes
Battlefield: Bad Company 2
Battlestations: Midway
Battlestations: Pacific
Battlestrike: Force Of Resistance 2
Bejeweled 2 Deluxe
Bejeweled Deluxe (STEAM Edition)
Bejeweled Deluxe
Ben There, Dan That! (STEAM Edition)
Ben There, Dan That!
Beowulf: The Game
Beyond Good and Evil
BioShock 2
BioShock
Bionic Commando (STEAM Edition)
Bionic Commando Rearmed (STEAM Edition)
Black & White 2
Black & White
Bookworm Adventures Deluxe
Borderlands
Braid
Brothers In Arms: Earned in Blood
Brothers In Arms: Hell's Highway
Brothers In Arms: Road to Hill 30
Bully: Scholarship Edition
Burnout Paradise
CSI: New York – The Game
Call of Duty 4: Modern Warfare
Call of Duty: Modern Warfare 2
Call of Duty: World at War
Call of Juarez: Bound in Blood
Call of Juarez
Cities XL
Clive Barker's Jericho
Clive Barker's Undying
Clutch
Cogs (STEAM Edition)
Colin McRae: DiRT 2
Colin McRae: DiRT
Command & Conquer 3: Kane's Wrath
Command & Conquer 3: Tiberium Wars
Command & Conquer 4: Tiberian Twilight
Command & Conquer: Generals – Zero Hour
Command & Conquer: Red Alert 3 Uprising
Command & Conquer: Red Alert 3
Command & Conquer: Tiberian Sun
Company of Heroes
Condemned: Criminal Origins
Conflict: Denied Ops
Counter Strike: Source
Counter-Strike: Condition Zero: Deleted Scenes
Counter-Strike: Condition Zero
Crayon Physics Deluxe
Cryostasis
Crysis: Warhead
Crysis
Damnation
Dark Age of Camelot
Dark Messiah Might and Magic (STEAM Edition)
Dark Messiah Might and Magic
Dark Sector
Dark Void
Darkstar One
Darwinia
Day of Defeat: Source
Day of Defeat
Dead Space
Defense Grid
Demigod
Descent II
Desperados
Deus Ex (STEAM Edition)
Deus Ex: Invisible War
Deus Ex
Devil May Cry 4
Diablo II
Divinity II: Ego Draconis
Doom 3
Doom II (STEAM Edition)
Dragon Age: Origins
Drakensang: The Dark Eye
Dreamfall: The Longest Journey
Dreamkiller
Dungeon Siege 2: Broken World
Dungeon Siege 2
EVE Online
Earth 2160
Eets
Elder Scrolls III: Morrowind (STEAM Edition)
Elder Scrolls III: Morrowind
Elven Legacy
Empire: Total War
Enemy Territory: QUAKE Wars
Eufloria
Everyday Shooter
Evil Genius
F.E.A.R. 2: Project Origin
F.E.A.R.: Extraction Point
F.E.A.R.: First Encounter Assault Recon
F.E.A.R.: Perseus Mandate
FUEL
Fable
Fallout 2
Fallout 3
Fallout
Far Cry (STEAM Edition)
Far Cry 2
Far Cry
FlatOut (STEAM Edition)
FlatOut 2 (STEAM Edition)
FlatOut: Ultimate Carnage
Football Manager 2008
Free Col
FreeOrion
Freedom Force
Freelancer
Frontlines: Fuel of War
GTI Racing (STEAM Edition)
GUN
Games for Windows LIVE (GFW-L) Profile
Garry's Mod
Gears of War
Ghost Master (STEAM Edition)
Ghostbusters: The Videogame
Grand Ages: Rome
Grand Theft Auto 2
Grand Theft Auto 3
Grand Theft Auto IV
Grand Theft Auto: San Andreas
Grand Theft Auto: Vice City
Gratuitous Space Battles
Gravitron 2
Grey's Anatomy
Grim Fandango
Gumboy: Crazy Adventures
Gumboy: Crazy Features
Half-Life 2: Episode One
Half-Life 2: Episode Two
Half-Life 2: Lost Coast
Half-Life 2
Half-Life: Blue Shift
Half-Life: Opposing Force
Half-Life: Source
Half-Life
Halo 2
Halo: Combat Evolved
Halo
Harry Potter and the Prisoner of Azkaban
Harry Potter: The Chamber of Secrets
Harry Potter: The Philosophers Stone
Harvest: Massive Encounter
Hitman 2: Silent Assassin (STEAM Edition)
Hitman: Blood Money
Hitman: Codename 47 (STEAM Edition)
Hospital Tycoon
Ice Age: Dawn Of The Dinosaurs
Infernal
Insaniquarium Deluxe
Jade Empire (STEAM Edition)
Jade Empire
James Bond: Quantom of Solace
James Cameron's Avatar: The Game
Joint Task Force
Just Cause 2
Just Cause
Kane & Lynch: Dead Men
Killing Floor
King's Bounty: Armored Princess
King's Bounty
Left 4 Dead 2
Left 4 Dead
Lego Batman
Lego Indiana Jones
Lego Star Wars II
Leisure Suit Larry: Box Office Bust
Logitech Macros
Lord of the Rings: Conquest
Lost Planet: Extreme Condition
Machinarium (STEAM Edition)
Mass Effect 2
Mass Effect
Max Payne 2: The Fall of Max Payne
Max Payne
MechCommander 2
MechCommander
MechWarrior 3
MechWarrior 4: Black Knight
MechWarrior 4: Mercenaries
MechWarrior 4: Vengeance
Medal of Honor: Airborne
Medal of Honor: Pacific Assault
Medieval II: Total War (STEAM Edition)
Medieval II: Total War
Men of War
Mercenaries 2: World in Flames
Metro 2033
Mini Ninjas
Mirror's Edge
Mount & Blade
Mr. Robot
Myst III: Exile
Myst IV: Revelation
Myst V: End of Ages
Myst: Masterpiece Edition
Nation Red
Need For Speed: Underground
Need for Speed: Carbon
Need for Speed: Hot Pursuit 2
Need for Speed: Most Wanted
Need for Speed: Shift
Need for Speed: Undercover
Neverwinter Nights 2
Neverwinter Nights
Ninja Blade
No One Lives Forever 2: A Spy In H.A.R.M.'s Way
No One Lives Forever
Obulis (STEAM Edition)
Oddworld: Abe's Exoddus (STEAM Edition)
Oddworld: Abe's Oddysee (STEAM Edition)
OpenTTD
Operation Flashpoint: Dragon Rising
Osmos
OutRun 2006 Coast2Coast
Overlord II
Overlord
Painkiller (STEAM Edition)
Painkiller: Overdose
Painkiller
Peggle Deluxe
Peggle Extreme
Peggle Nights
Peggle World of Warcraft Edition
Penny Arcade Adventures: On the Rain-Slick Precipice of Darkness, Episode One
Penumbra: Black Plague
Penumbra: Overture
Penumbra: Requiem
Perimiter 2: New Earth
Planescape: Torment
Plant Tycoon
Plants Vs Zombies (STEAM Edition)
Portal
Post Mortem
Postal 2
Prey
Prince of Persia: The Sands of Time (STEAM Edition)
Prince of Persia: The Two Thrones
Prince of Persia: The Warrior Within
Prince of Persia
Pro Evolution Soccer 2010
Project: Snowblind
Prototype
Psychonauts (STEAM Edition)
Psychonauts
Pure
Puzzle Quest: Galactrix
Puzzle Quest
Quake 4
Quake II (STEAM Edition)
Quake II
Race 07
Race Driver: GRID
Rag Doll Kung Fu
Railroad Tycoon 3
Red Faction (STEAM Edition)
Red Faction II (STEAM Edition)
Red Faction II
Red Faction: Guerrilla
Reservoir Dogs
Resident Evil 5
Return to Castle Wolfenstein (STEAM Edition)
Rise of Nations
Risen
Riven
RoboBlitz
Rockstar Social Club
Rogue Trooper
Roller-coaster Tycoon 3
Rome: Total War: Alexander
Rome: Total War: Barbarian Invasion
Rome: Total War
S.T.A.L.K.E.R: Call of Pripyat (STEAM Edition)
S.T.A.L.K.E.R: Clear Sky
S.T.A.L.K.E.R: Shadow of Chernobyl
SPORE
Saints Row 2
Sam & Max: Season 1 – Episode 1
Sam & Max: Season 1 – Episode 2
Sam & Max: Season 1 – Episode 3
Sam & Max: Season 1 – Episode 4
Sam & Max: Season 1 – Episode 5
Sam & Max: Season 1 – Episode 6
Sam & Max: Season 2 – Episode 1
Sam & Max: Season 2 – Episode 2
Sam & Max: Season 2 – Episode 3
Sam & Max: Season 2 – Episode 4
Sam & Max: Season 2 – Episode 5
Savage 2: A Tortured Soul
Saw: The Videogame
Second Life
Secret Maryo Chronicles
Shadowgrounds (STEAM Edition)
Shadowgrounds: Survivor
Shadowgrounds
Shattered Horizon
Sid Meier's Civilization III
Sid Meier's Civilization IV: Beyond the Sword
Sid Meier's Civilization IV: Colonization
Sid Meier's Civilization IV: Warlords
Sid Meier's Civilization IV
Sid Meier's Pirates!
Sid Meier's Railroads
Silent Hill: Homecoming
Silent Hunter 3
Sin Episodes: Emergence
Sins of a Solar Empire
Sin
Sonic & SEGA All-Stars Racing (STEAM Edition)
SpellForce 2
Spider-Man: Web of Shadows
Splinter Cell: Chaos Theory
Splinter Cell: Double Agent
Split Second
Star Trek: Bridge Commander
Star Trek: Legacy
Star Wars: Dark Forces
Star Wars: Jedi Knight II: Jedi Outcast
Star Wars: Jedi Knight: Dark Forces II
Star Wars: Jedi Knight: Jedi Academy
Star Wars: Jedi Knight: Mysteries of the Sith
Star Wars: Knights of the Old Republic
Star Wars: The Force Unleashed – Sith Edition
Starcraft
Starscape
Stranglehold
Street Fighter IV
Streets of Moscow
Stronghold: Crusader
Stronghold
Stubbs the Zombie
Supreme Commander 2
Syberia II
Syberia
System Shock 2
Tachyon: The Fringe
Tales of Monkey Island Chapter 1: Launch of the Screaming Narwhal
Tales of Monkey Island Chapter 2: The Siege of Spinner Cay
Tales of Monkey Island Chapter 3: Lair of the Leviathan
Tales of Monkey Island Chapter 4: The Trial and Execution of Guybrush Threepwood
Team Fortress 2 (Steam Cloud)
Team Fortress 2
TeamSpeak 3 Client
TeamSpeak RC2
Terminator Salvation
Test Drive: Unlimited
The Battle For Middle Earth II
The Chronicles of Riddick: Assault on Dark Athena
The Chronicles of Riddick: Escape From Butcher Bay
The Elder Scrolls IV: Oblivion
The Godfather™ II
The Last Remnant
The Longest Journey
The Lord of the Rings: The Return of the King
The Matrix: Path of Neo
The Maw (STEAM Edition)
The Movies
The Path
The Saboteur
The Secret of Monkey Island: Special Edition
The Sims 2
The Sims 3
The Suffering
The Witcher: Enhanced Edition Director's Cut
The Wonderful End of the World
The X-Files
Thief II: The Metal Age
Thief: Deadly Shadows (STEAM Edition)
Thief: Deadly Shadows
Time Gentlemen, Please!
TimeShift
Titan Quest: Immortal Throne
Titan Quest
ToCA Race Driver 3 (STEAM Edition)
Toki Tori (Steam Cloud)
Tom Clancy's EndWar
Tom Clancy's Ghost Recon (STEAM Edition)
Tom Clancy's Ghost Recon: Advanced Warfighter 2
Tom Clancy's Ghost Recon: Advanced Warfighter
Tom Clancy's H.A.W.X
Tom Clancy's Rainbow Six: Vegas 2
Tom Clancy's Rainbow Six: Vegas
Tomb Raider II Gold (The Golden Mask)
Tomb Raider III: Adventures Of Lara Croft
Tomb Raider II
Tomb Raider: Anniversary
Tomb Raider: Legend
Tomb Raider: Underworld
Torchlight
Track Mania: Nations Forever
Transformers: Revenge Of The Fallen
Trials 2: Second Edition
Trine (STEAM Edition)
Tron 2.0
Tropico 3
True Crime: Streets of LA
Universe at War: Earth Assault
Unreal II: The Awakening
Unreal Tournament (STEAM Edition)
Unreal Tournament 2004 (STEAM Edition)
Unreal Tournament 2004
Unreal Tournament 3
Vampire: The Masquerade – Bloodlines (STEAM Edition)
Vampire: The Masquerade – Bloodlines
Velvet Assassin
Ventrilo
Vin Diesel: Wheelman
Virtua Tennis 2009
Virtual Families
Virtual Villagers 2: The Lost Children
Virtual Villagers 3: The Secret City
WALL-E
WANTED: Weapons of Fate (STEAM Edition)
Wallace & Gromit's Grand Adventures Episode 1: Fright of the Bumblebees
Wallace & Gromit's Grand Adventures Episode 2: The Last Resort
Wallace & Gromit's Grand Adventures Episode 3: Muzzled!
Wallace & Gromit's Grand Adventures Episode 4: The Bogey Man
Warhammer 40,000: Dawn of War – Dark Crusade
Warhammer 40,000: Dawn of War – Soulstorm
Warhammer 40,000: Dawn of War II
Warhammer 40,000: Dawn of War
Watchmen: The End is Nigh (STEAM Edition)
Wolfenstien
World in Conflict
World of Goo
World of Warcraft
X-Blades
X-Men Origins: Wolverine
X2: The Threat (STEAM Edition)
X2: The Threat
X3: Terran Conflict
XPand Rally (STEAM Edition)
Xfire
Xmoto
Zeno Clash (STEAM Edition)
Zombie Driver
Zombie Shooter 2
Zombie Shooter
Zuma Deluxe