Sending important files to email is one of the methods to backup files and more importantly, you can access these files anywhere anytime when there is a need. However, to send files to your email, it involves several steps which could be quite time consuming. First, you need to login to your email account, then click compose mail, browse to the directory and select the file to upload, waiting for uploading process to be completed and then hit send button. All these steps could easily take up 5-10 mins to just send 1 file to your own email account. Now there is a utility, named as Backup To EMail that is designed to let you send files to email in more efficient way by using right click context menu and without the need for you to login to your email account manually.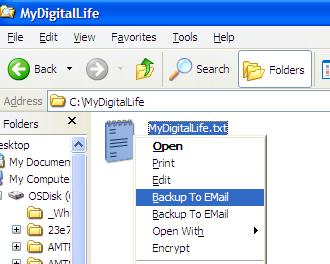 Backup To EMail is a free utility that is able to backup your files quickly by sending them to your email through right click context menu. Once you have installed and launched it for the first time, it will prompt you to configure your Gmail username and password by default. If you would like to backup files to other email service provider, you can change it by right clicking on the tray icon (with V symbol), then choose Setup and click Advance button. The setting page will be displayed and go the main settings page (click Main at the left pane), double click on Other email and change all the settings to the email service provider as you preferred. After completed the email setting, you can send any files to your email by just right clicking on the file, then choose Backup To EMail from the context menu. It will show you the progress bar so that you are aware with the uploading status. Once the uploading process is completed and the file has been sent, a balloon notification will pop up to inform you that the file has been sent to your email successfully.
Backup To EMail 2.1.1 is absolutely free for download and is compatible to run on Windows 3.x,/95/98/ME/2000/NT/2003/XP/Vista/7 and Windows Server 2008. The only pre-requisite is you must have Java Runtime Environment 6.0 installed. One thing you may need to take note is the downloaded installer doesn't come with exe extension, so you must append exe extension to the installer in order to make it a valid installer.