Baidu, the world's leading Chinese search engine provider, has officially launched it new consumer-to-consumer (C2C) e-commerce and auction site which called as Youa.com. Youa will complete with the current C2C marketplace leader like Alibaba's Taoboa.com, Paipai.com, Eachnet.com and etc. Alibaba recently announced that it will invest RMB5 billion (US$732 million) over the next five years to further gain the Taoboa marketplace. Currently, Taoboa has 80 million registered users and over 1 million sellers.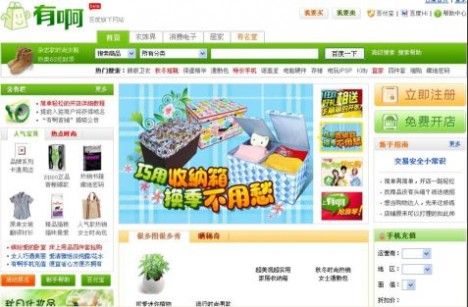 Before the Youa officially launched, it was previously available to 10,000 pre-approved sellers and 50,000 participants in closed beta testing. For online payment transaction, Youa will use Baidu own branded online payment systems called as BaiFuBoa.
According to Mr.Jun Yu, Baidu's vice president of products that Baidu Youa will continues Baidu's tradition of providing the best possible online experience for their users and new C2C platform provides user-friendly shopping with emphasis on customer service.