The world's leader in video games developer, Electronic Arts' DICE has announced its multiplayer shooter Battlefield 1943 will be available at PS3 store and Xbox LIVE market in June. However, the PCs version will only be available in September.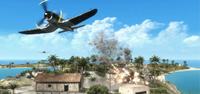 Battlefield 1943 is an all-new multiplayer game that offers endless hours of 24-player action in popular maps inspired by Battlefield 1942, now updated with the Frostbite engine.
"Using the same Frostbite engine that we developed for Battlefield: Bad Company, we are able to take players back to WWII and return to the roots of the Battlefield franchise, but with a new twist – destruction," according to Gordon Van Dyke, Producer on Battlefield 1943. "We want to offer gamers the most accessible online shooter experience and the best value found in any premium download title with Battlefield 1943."
In Battlefield 1943, players are a part of intense battles over three classic and tropic locations namely Wake Island, Guadalcanal and Iwo Jima. Beside that, the players have the freedom to pick their path as a rifleman, a steel fisted tank commander and etc. 
The Battlefield 1943 is expected to be at the price of $15.