Bayer Diabetes Care has announced its new DIDGET blood glucose monitoring system, which the company claims as the first and only blood glucose meter intended for kids aged 5-14 with diabetes that plugs into Nintendo DS and Nintendo DS Lite gaming devices, based on Bayer's trusted CONTOUR system, aiming to transform kids diabetes experience by tapping into their existing passion for video games to encourage consistent blood glucose testing with reward points that children can use to buy in-game items as well as unlock new game levels.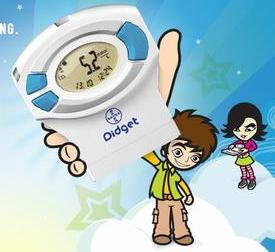 "One of the biggest challenges facing parents of children with diabetes is the constant struggle to instil the habit of regular blood glucose testing that is critical for consistent diabetes management," said John Gregory, Professor in Paediatric Endocrinology, Wales School of Medicine, Cardiff University. "Bayer's DIDGET meter can help ease the parent/child tension that testing often creates by adding an element of fun and rewards to the routine. Because it is designed with children in mind, Bayer's DIDGET meter can transform a child's blood glucose testing experience from something they have to do into something they want to do."
Bayer's DIDGET that includes Knock 'Em Downs: World's Fair video game and Mini Game Arcade will also connect to a new password protected web community – Bayer's DIDGET World (coming soon!), where children can earn reward points for blood glucose test results and create their own page.
"The DIDGET meter is a revolutionary development in healthcare management. Up until now, blood glucose monitors have been created with adults in mind," said Sandra Peterson, Head of Bayer Medical Care. "This product was inspired by a parent of a child with diabetes, to directly address the challenges facing kids with diabetes and their parents. Bayer's DIDGET meter offers play with purpose to encourage kids to regularly monitor their blood glucose and begin to view regular testing as fun."