Bejeweled 2 or Bejeweled 2 Deluxe is a sequel to the popular Bejeweled puzzle game, both developed and published by PopCap Games. Bejeweled 2 Deluxe and its web-based Bejeweled 2 add extra game modes and features to the game. Bejeweled 2 had won many awards, including Hall of Fame Inductee at 2002 Computer Gaming World to be the first and only puzzle game inducted since Tetris in 1988, and Puzzle Game of the Year on 2001 Computer Gaming World.

Players of Bejeweled 2 have to swap one gem with an adjacent one to form a chain of three or more gems of the same color. When such a chain is created, the gems disappear, causing randomly generated gems to fall from the top to take the matched gems' place. Cascade happens when falling gems automatically line up, causing chain reactions.
Bejeweled 2 and Bejeweled 2 Deluxe have several different modes of gameplay available, and features various secret gameplay modes that can be unlocked and accessed by beating levels of Classic, Puzzle, Endless, and Action modes.
Features of Bejeweled 2 Deluxe include:
A mode for every mood: Classic, Action, Puzzle or Endless
Create explosive jewels: Power Gems and Hyper Cubes
Rise up the ranks and save your high score
Can't quite spot that next match? Use hints-on-demand for a quick tip!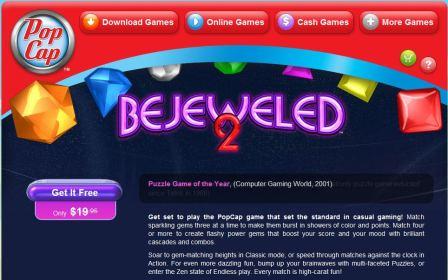 Bejeweled 2 Deluxe normally costs $19.95 for a single license on Windows or Mac OS X platform. For today only (10-10-10), until 10pm PST, to celebrate 10th anniversary of Bejeweled, Bejeweled 2 Deluxe is going for the price of $0.00 – that's free, no cost for everyone. Just visit the Bejeweled 2 homepage on PopCap to complete the checkout process to get the order number which doubles up as the registration code to unlock the full version game and the download link.
Windows: http://www.popcap.com/games/bejeweled2/
Mac OS X: http://www.popcap.com/games/bejeweled2/?p=2
Click on Get It Free button to start the order check out process.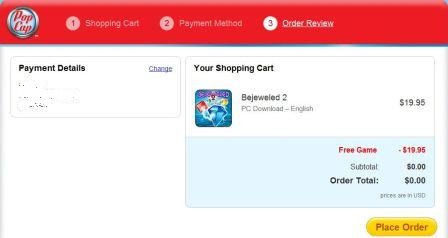 No registration or login required but a valid email is required to receive the unlock code. You can only select either Windows PC or Mac OS X versions of game. However, you can always restart the checkout process to download Bejeweled 2 Deluxe for both system. The shopping cart actually automatically include the BEJ101010 as the coupon code to deduct the price of the game, making it free.