BenQ has announced its new ultra-portable netbook – Joybook Lite U102, which comes with beautifully sculpted casing in polished obsidian finish. The new BenQ Joybook Lite U102 equipped with 10.1 inch UltraVivid widescreen display, Intel Atom N270/N280 processor, and Intel 945GSE Chipset. In addition, the Joybook Lite U102 also has built-in high-resolution 1.3 megapixel webcam, crystal-clear built-in speakers, and integrated microphone with smart noise suppression and echo cancellation. Furthermore, the netbook integrated bluetooth 2.1, wide-coverage WiFi, and optional high-speed 3.75G HSUPA connectivity, which has a shortcut key makes it easy to switch between Wi-Fi and 3G to expanded connection essentials. The netbook also comes with comfortably 90 percent of full-size QWERTY keyboard for more ergonomic, error-free typing, while an expanded touch pad makes scrolling web pages much easier. Apart from that, it also accompanied by an unusually petite AC adapter where light to tote at around 200g.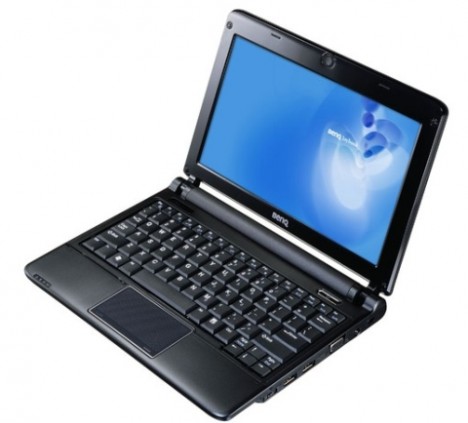 Features of BenQ Joybook Lite U102
10.1 inch UltraVivid LED-backlit screen with resolution 1024 x 600 pixels
Intel Atom N270 1.6GHz /Intel Atom N280 1.66GHz CPU
Intel 945GSE Chipset
Intel GMA950 graphics
1GB DDR2-533
160GB (5400rpm) SATA HDD
1.3-megapixel webcam
Genuine Windows XP Home Edition operating system
1 year Overseas Regional Warranty (ORW)
Ethernet, 802.11b/g WiFi, , 3.75G HSUPA connectivity
Bluetooth 2.1
Three USB 2.0 ports, mic, headphone
4-in-1 card reader
90% full QWERTY keyboard
Battery 3-cell operate time up to 3 hours and 6-cell battery up to 6 hours battery life
The netbook measures just 260 x 186 x 18.5 mm and weighs only 1.05kg (with 3-cell battery). The new BenQ Joybook Lite U102 netbook currently available in Taiwan, China, and Thailand through selected leading retailer but the price has yet to be announced.