Occasionally you may need to do a quick search on your local drive to find a particular document that could have been misplaced after too much of collaterals being piled up from time to time. If you need some simple files management with ability to search and open a searched document instantly, you may want to try this software utility. Named as Benubird PDF, it is equipped with an easy-to-use searching GUI and comprehensive filtering mechanism so that you can accurately obtain related documents in shortest possible time.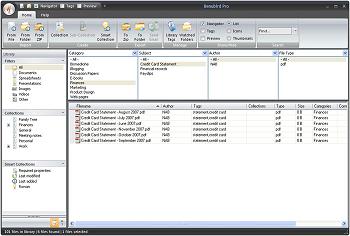 For the start, users just need to choose specific folders that are intended to be searched through. By default, there are some 'filters' and 'collections' that appeared on the left panel, allowing users to automatically categorize all the files so that they are sorted in neat view. Users can customize the viewing by list, preview, thumbnail, navigator and etc. Without much learning needed, just enter any keyword into the 'Search' ribbon and users can narrow down the searching criteria to All, Title, Author, Subject and it will list all them down in details for your reference. Clicking directly on the file will open it up for immediate viewing without manually entering the sub folders.
Besides, the utility is also enhanced additional functionality that able to convert other file format to PDF format. Just right clicking on the respective file followed by 'Convert to PDF' will convert it immediately. If you think this is useful, just go to download it here for more efficient task in your daily work.