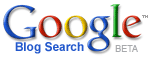 There are millions of new items posted by bloggers daily. It is ridiculous to read or browse through all these new posts every day. To help users to explore the blogging world more effectively, Google has upgraded and relaunched its Blog Search service, a Google search technology focused on blogs.

Google BlogSearch has presented a new interface by listing the hottest and most interesting new topics from blogosphere on the front page, along with a timeline that shows users how the stories are gaining momentum amongst users. Google Blog Search has also added a categories sidebar on the left column of the site.
Readers can search and browse through 11 categories: politics, US, world, business, technology, video games, science, entertainment, movies, television and sports to check out the latest bloggers's 'talk' or postings. Besides English, users can do blog search in other languages such as Swedish, Malay, Polish, Thai, Indonesian, Tagalog, Turkish, Vietnamese, etc.
Google Blog Search produces the latest updates amazingly fast. Besides, the interface is quite neat and attractive. Although Google Blog Search is still behind in its visitor numbers compared to the leading tech blog memetracker, Techmeme, it will likely catch up with its better and faster indexing approach backed by Google search technology. It will not be a surprise if Google BlogSearch surpasses the numbers achieved by its competitor now.