Mobile Coach from BioMobility is a physical training and workout tracking and analysis program. Mobile Coach can keep track of user's food (calorie) intake and exercises or workouts, graph protein, carbohydrate and fat percentage, calculate metabolic rate and even create a training plans for popular events such as 5km run, marathon, etc. The main features of Mobile Coach are listed below.

Familiar calendar style interface for ease of use. Includes day, week, month, food, and reports views.
"Food Templates" and "My Favorites" make food entry a breeze.
Redesigned Food Database containing over 3,000 items, and the ability to add in your own food items.
Version of Mobile Coach for Windows that synchronizes with your device.
Built in training plans for 5k run, 10k run, marathon, century bike ride, and body for life.
Templates for VERY easy entry of strength workouts.
Drag and drop and cut-copy-paste functions for moving and rescheduling workouts.
Calculates your estimated metabolic rate, calories burned during exercise, calories consumed, and calories remaining for the day.
Displays a pie graph of protein, carbohydrate, and fat intake, along with grams of each.
Includes calorie burn rates for over 45 different activities, and you can add in your own or modify the existing activities.
Calculates pace and speed for distance activities like running, biking, or swimming.
Extensive measurements logging lets you keep track of your progress in up to 17 different areas.
Over 90 different combinations of built in graphs/reports.
Keep track of multiple users on the same device and desktop computer!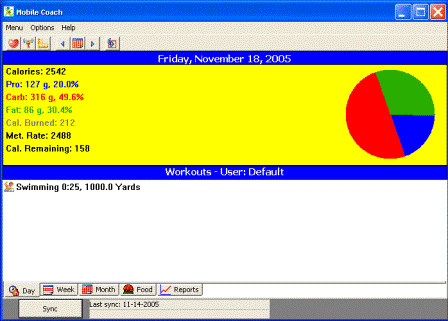 As seen from the features of Mobile Coach, the software is actually available for Windows Mobile Pocket PC (PPC) devices, and a desktop version is also available for Windows XP and Vista computer. The main aim is to allow synchronization between desktop and mobile device. However, it doesn't stop user from using the Mobile Coach desktop version as standalone program by itself.
Mobile Coach costs $19.95 a piece to purchase, for both PPC edition and Windows version. For a limited period, The Windows desktop component of Mobile Coach is available for free, representing $19.95 discount saving. For user who is planning to use just the desktop version of Mobile Coach, it's completely free.
To get Mobile Coach for Windows registration code for free, go to http://www.biomobility.com/mobilecoach.htm and click on "Add to Cart" button for Windows (XP and Vista) version. At the Shopping Cart page, enter FREEDESKTOP as the Gift Certification or Promotion Code, and click on "Recalculate" button to get $19.95 rebate with no credit card required. Proceed to checkout to receive the registration code, which can be used to unlock and turn the unregistered trial version into full version legit copy.
Download Mobile Coach for Windows desktop: mcdesktop.exe (also is fully functional trial for 15 days)