BitDefender Internet Security 2010 is comprehensive Internet security software that offerr protection against malware, spyware, virus, Trojan, spam, hackers without slowing down the PCs. BitDefender Internet Security 2010 comes with user-friendly interface with designed for expert or novices that interface adapt to the chosen profile and provide quick access to the main security functionality. In addition, the new BitDefender 2010 has improved Parental Control, Intrusion Detection, and In-Product Technical Support. Furthermore, it also features a cutting-edge security system and Active Virus Control that constantly monitors all the processes on PC, 24/7, and blocking any malicious behavior before it can cause any damage. BitDefender Internet Security 2010 able scans PC in half the time needed by earlier versions, while using fewer resources.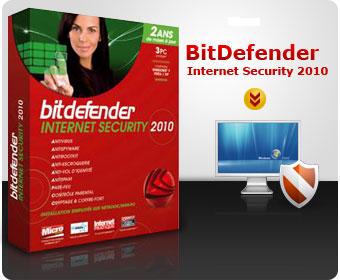 Features of BitDefender Internet Security 2010:
Protects against viruses and other malware using industry-leading technology
Scans all Web, e-mail and instant messaging traffic in real-time
Provides an unmatched detection rate of new threats
Guard the files and conversations with top-of-the line encryption
Prevents personal information from leaking via e-mail, Web or instant messaging
Blocks spyware programs that track your online activities
Connect securely to any network at home, at the office, or away
Parental Control blocks access to inappropriate websites and e-mail
Antispam stops unwanted e-mail from reaching Inbox
Free technical support for the entire duration of the product license
BitDefender Internet Security 2010 normally cost $49.95 to purchase for three licenses. As part of promotional offer from BitDefender, now everybody can get a free 90 days BitDefender Internet Security 2010 with full commercial working version, with no restriction nor locked features. As promotion offer is expire on December 15, 2009 so hurry up.
To get the free license for BitDefender Internet Security 2010 with free serial number and activation key code, follow these steps:
Visit the promotional page at the following URL:http://www.bitdefender.ro/media/html/ro/romanialibera/
Then click on "Descarca acum" (top of the page) to download bitdefender_isecurity.exe file.
Once downloading the file, run it to install BitDefender Internet Security 2010.
Alternatively, use direct download links below to download and install the BitDefender Internet Security 2010:
Grab fast as offer expires December 15, 2009.
Note: If you see the installation in Romanian language, then copy the downloaded "bdis.msi" file from C:\Windows\Temp to another folder and again run that installation file (bdis.msi).
BitDefender Internet Security 2010 supports Windows 2000, Windows XP, Windows Vista (32&64 bit), and Windows 7.
Also check out more free anti-virus offers.
Update: BitDefender Internet Security 2016 Free Download With 6 Months Genuine License Key Code, BitDefender Internet Security 2015 Free Download With Genuine License Key Code (Update), BitDefender Total Security 2015