BitDefender Total Security 2010 is comprehensive security software for Windows operating system that provides proactive protection against viruses, spyware, hackers, spam, Internet security threats, firewall protection, and along with system maintenance and data backup. BitDefender Total Security comes with user-friendly interface which designed for expert or novices that adapts to the chosen profile and provide quick access to the main security functionality. BitDefender Total Security 2010 also features three dashboard views (Novice, Intermediate, and Expert) to better accommodate users with different levels of PC knowledge. In addition, BitDefender Total Security 2010 also comes with Active Virus Control features, which constantly monitors all of the processes on the PC and blocking any malicious behavior before it can cause any damage. Furthermore, BitDefender Total Security 2010 also increased privacy protection through Instant Messaging Encryption to keeps conversations private on Yahoo Messenger and Windows Live Messenger. Moreover, BitDefender Total Security 2010 has improved Optimized Scanning, Parental Control, Intrusion Detection, increased storage protection with File Vault and provides secure on-line storage. On the other hand, it also provides free In-Product Technical Support for the entire duration of the product license and assistance with common issues built directly into the product.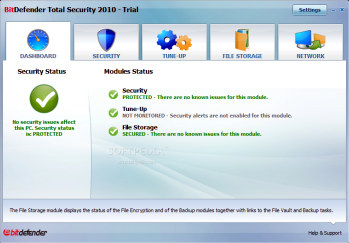 Features of BitDefender Total Security 2010:
Scans all web, e-mail and instant messaging traffic for viruses and spyware, in real-time
Proactively protects against new virus outbreaks using advanced heuristics
Provides an unmatched detection rate of new threats based on two different proactive technologies
Blocks attempted identity theft (phishing)
Prevents personal information from leaking via e-mail, web or instant messaging
Instant Messaging Encryption
File Vault securely stores personal information or sensitive files
Backs up files and folders locally
Automatically modifies firewall protection settings to suit location
Wi-Fi monitor helps prevent unauthorized access to your Wi-Fi network
Schedules and limits kids' access to Internet and to applications
Removes unnecessary duplicates of files and registry entries
Antispam stops unwanted e-mail from reaching your Inbox
Parental Control blocks access to inappropriate websites and e-mail
Reduces the system load and avoids requesting user interaction during game play
File Shredder permanently erases sensitive files and traces of files
Optimized scanning technology skips safe files for better scan speed and lower system load
BitDefender Total Security 2010 normally cost $69.95 (one PC) (aff) and $79.95 (three PCs) (aff) for purchase through BitDefender Security Store. Users who want to try out BitDefender Total Security can directly download the BitDefender Total Security 2010 free trial setup installer by using links below.
Direct Download Link for BitDefender Total Security 2010 Free Trial:
BitDefender Total Security 2010 (32-bit) :bitdefender_totalsecurity_2010_32b.exe
BitDefender Total Security 2010 (64-bit) :bitdefender_totalsecurity_2010_64b.exe
BitDefender Total Security 2010 (3-PCs) :bitdefender_tsecurity.exe
BitDefender Total Security 2010 support Windows XP SP2, Windows Vista, and Windows 7.
Update: BitDefender Internet Security 2016 Free Download With 6 Months Genuine License Key Code, BitDefender Internet Security 2015, BitDefender Total Security 2015