Blackberry Pearl Flip 8230 smartphone will be available soon via Alltel Wireless. The clamshell handset has been designed with a small external display and an internal display with 240 x 320 resolutions. Featured with a 2-megapixel camera with video recoding function, Blackberry Pearl Flip 8230 is also equipped with a SureType keyboard.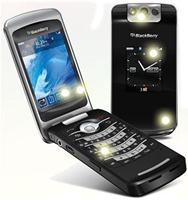 "Alltel is committed to offering customers stylish and innovative phones, and the BlackBerry Pearl Flip gives customers the best of both worlds – a small, stylish smartphone rich in multimedia coupled with the industry's leading mobile email and messaging capabilities," said Angela Rittgers, director of product management for Alltel Wireless. "As Alltel expands its handset lineup and showcases hot phones for spring, we know that the BlackBerry Pearl Flip will be a favorite with customers across the 22 states that we continue to service."
Besides, it is Bluetooth enabled, integrated a music player that supports popular digital music files and supports a microSD or microSDHC card.
The Blackberry Pearl Flip 8230 smartphone will be available at retail stores for $80 after a $70 mail-in rebate and a two-year service agreement on a qualifying Smart Choice Pack. The Smart Choice Packs start as low as $69.99 per month which include unlimited data, email and Web access.