Good news for folks who prefer a clamshell phone with a full QWERTY BlackBerry keyboard. RIM and Sprint have announced the upcoming launch of new compact, high-end smartphone with a fashionable flip form factor – BlackBerry Style 9670, which features a dual LCD displays, full QWERTY keyboard, 5-megapixel camera, built-in GPS, optical trackpad, Wi-Fi b/g/n connectivity, and latest BlackBerry 6 OS that offers a number of enhancements including WebKit-based browser, Universal search and an expanded messaging capabilities. BlackBerry Style 9670 is available in two elegant color variations – Steel Grey and Royal Purple.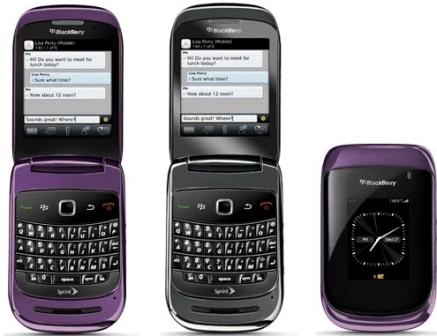 "The beautiful and compact flip form factor on the BlackBerry Style smartphone makes it quite unique within the BlackBerry lineup," commented Fared Adib, vice president for Product Development at Sprint. "Customers will appreciate that the flip form factor is extremely easy to use for calls, and with a full QWERTY keyboard, it provides the same attractive features enthusiasts have come to expect from their smartphone. Also, with the enhancements available through BlackBerry 6, Sprint customers will love the new user interface and the enhanced Web browsing experience."
BlackBerry Style 9670 flip phone which measures 175.5 x 60 x 18.5 mm and weighs just 131 grams is now available for pre-order and slated to hit Sprint stores exclusively on October 31 for $99.99, after a $100 mail-in rebate with a new 2-year contract.
Watch the official promo video for BlackBerry Style 9670: