Computer screen locking is important as it helps to secure your confidential files from exposed to others. The step is fairly simple with a combination of CRTL+ALT+DEL keys but how frequent you remember to lock the computer while you are away from desk? Here is a quite simple yet innovative solution to lock your computer automatically by detection using Bluetooth technology. Known as Bluelock, it can detect the existence of Bluetooth device around and determine if the computer locking should take place.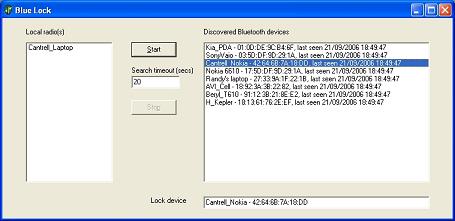 The solution relies on Bluetooth technology that links both the mobile device and your PC/laptop. Whenever there is a link loss (the user carried his mobile device walking away from PC), the software utility will trigger computer lock automatically. In this scenario, both your PC and mobile device should have Bluetooth capability as a basic requirement. Also, it will not help if the user forgets to bring his mobile device.
The software is free and doesn't require any installation. No harm to get a free copy at Wuul if you think it can help you. Same concept can be applied to safeguard your Bluetooth devices that you carry around by linking two devices together.