Most of the time, the video capture cards for video recording or security surveillance system are always available in PCI or PCI-E interfaces. So, plugging into your laptop could be a tedious process. You may either need some kind of converters to plug that card into your laptop or even worst when need to open the laptop casing searching for the right connector to insert the module. Now, the solution provided by Brando seems to be able to simplify the whole setup process. Named as EasyCap 4 Channel DVR, it is compatible to any USB 2.0 host interface on your laptop or UMPC (Ultra Mobile PC) for direct plug and play with up to four channels for recording.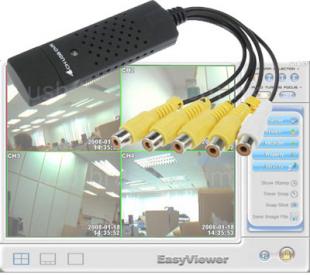 Unlike traditional video capture card, the module is quite handy, about the size of pen drive with four additional composite cables for video input connectivity. Depending on the frame rate, it allows up to four cameras to record and store directly into your PC hard disk. The recording will be compressed to MPEG-4 format so that the whole bandwidth allocation is sufficient to cater for four video inputs simultaneously. Good thing is, the frame rate is configurable between 1 to 30 frames per second without significantly affecting the video quality. To make it more perfect for surveillance system, it features an alarm system that can be activated under few conditions such as motion sensor, video loss, full hard disk space and etc.
Priced at only $40, it is good to get one so that you can set up your own security system that would probably costs you few hundred bucks if hiring some professions to do that.