Previously we mentioned about Omnivision QV5650 full HD (High Definition) 1080p capable camera sensor module, now there is an even more powerful module from Broadcom targeted for next generation smartphone products. Named as BCM2763 VideoCore IV, it is claimed to be able to provide 20MP of digital camera still resolution on top of full HD 1080p video capturing capability with advanced feature sets suitable to various mobile applications.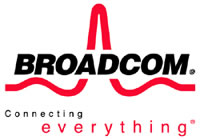 The BCM2763 is based on 40nm CMOS technology so you can expect a much smaller foot print, cheaper cost and much thermally efficient as compared to its predecessors that were based on 65nm process technology. The power figure of around 490mW for full HD H.264 encoding and merely 160mW for media playback and graphics rendering are few significant improvements that can prolong the portability with four to six hours of full HD video recording and up to ten hours of continuously mobile playback. Besides, the tiny module integrates all the functions including GPU, 128MB LPDDR2 graphics and video memory, USB 2.0 as well as HDMI video output. Other advanced features include face detection, image stabilization, multiple shots per second and many more that make it a perfect solution for high end smartphones.
No pricing information yet, the next generation mobile smarphone based on BCM2763 processor is expected to reach consumer market by 2011.