BufferZone Pro is a comprehensive security software from Trustware that provides protection against Trojan horses, worms, keyloggers, spyware, adware, phishing attempts, or other computer-clogging malware. BufferZone Pro also supports USB devices, P2P file sharing, e-mail clients, all instant-messaging programs, and personal files. With BufferZone Pro, users able to surf at anywhere, download anything, open email attachments, share and chat with friends, and e-bank with peace of mind. In addition, BufferZone Pro also comes with virtualization technology that creates a virtual environment a.k.a "Virtual Zone", which potentially threatening programs and files are virtualized and remain isolated mode from personal files and operating system.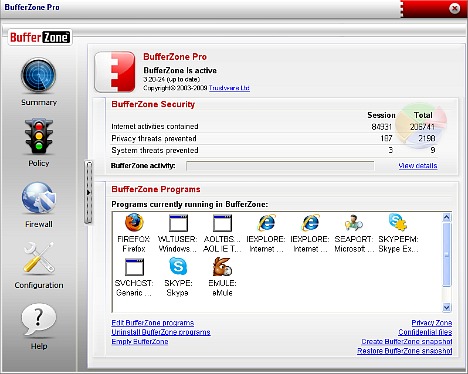 Features of BufferZone Pro:
Safely download anything in an isolated (virtualized) zone
Safely open e-mail attachments in an isolated (virtualized)
e-Bank and e-Shop in a trusted environment (Privacy Zone)
Safely browse in an isolated (virtualized) zone
Safely chat with IM in an isolated (virtualized) zone
Schedule periodic "flushes" of the Virtual zone
Safely share with P2P applications in an isolated (virtualized)
Safely use USB devices in an isolated (virtualized) zone
Lock your personal files (in confidential folders) inside a trusted zone
Important software upgrades pass automatically into the trusted zone
Take a "snapshot" of the Virtual Zone for one- step restore
Application Control
Support 24/7
BufferZone Pro has a listed retail price of $39.95. As part of promotional offer, the developers of BufferZone Pro, Trustware is now changed the BufferZone Pro as freeware for home users to download.
Download BufferZone Pro (Full Version) for Free: BufferZoneProFree.msi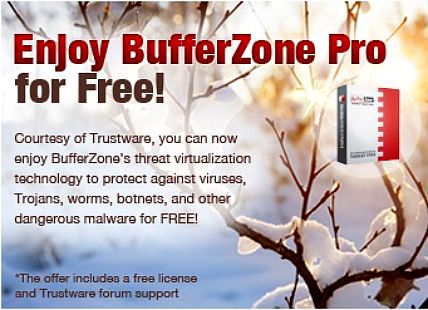 Note: The offered full version BufferZone Pro does not need any license key or registration key to unlock or activate.
Install the BufferZone Pro, and enjoy the full version of BufferZone Pro. BufferZone Pro supports Windows XP, Vista, and Windows 7.